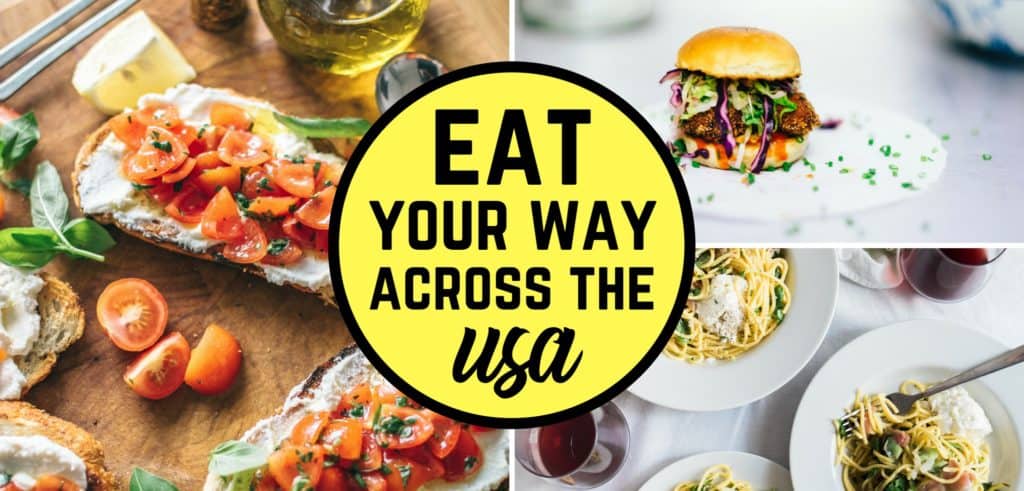 The United States is a beautiful melting pot of many different cultures (and as a result, many different cuisines). For food lovers, this means an endless array of incredible flavors and experiences to try. With so many options, it can be overwhelming to try and narrow things down – so that's where we come in!
Diversity is the one true thing we all have in common. Celebrate it every day.

—  Author Unknown
Being open to new foods and sharing meals with people from backgrounds that look much different than yours is one of the best ways to connect with others, and we hope that this guide to eating your way across America will broaden your horizons as well as your taste buds!
Whether you're visiting the United States for the very first time or you're just looking for the best restaurants and dishes to sample on an upcoming trip, this guide is for you. Featuring 44 amazing cities all across the country, ranging from small town culinary gems to well-known food-obsessed metropolises, we've put together a comprehensive USA foodie bucket list with local recommendations for each destination that will have you drooling!
---
Here's a taste of what you'll find in this post (Get it? A taste?!):
Seattle, Washington
Tavolata has some of my favorite pasta in the USA. Tavolata is owned by restaurateur Ethan Stowell, who has several restaurants in the area, all specializing in a different aspect of Italian food – this is his pasta restaurant, and he does it darn well. I feel like a lot of restaurants miss the mark when cooking pasta to that perfect al dente texture, but Tavolata is spot on.
They also have a killer Happy Hour deal, which runs every single day (!) from 5-7pm – the pasta is basically half off, and the wine is $5. This is one of the places I have to dine at every single time I'm in town.
What to order: Pepperdelle or Rigatoni
Serious Pie is under the empire of Tom Douglas, who is another famous local restaurateur. I always say that I can never leave Seattle without eating at a Tom Douglas establishment – it's a tough choice when choosing a favorite, but I am obsessed with Serious Pie (Lola and Dahlia Lounge are also delicious).
The thin-crust, wood-fired pies are some serious stuff and are super addictive. You can't go wrong with anything here – they have anything from the classic pies, to some creative topping combinations. 
What to order: Sweet fennel sausage, roasted peppers, provolone
If you are obsessed with oysters like I am, then the Walrus and the Carpenter is a dream come true. The Walrus and the Carpenter has been one of the most highly acclaimed and popular restaurants in Seattle since its opening in 2011, when it was named one of the best new restaurants in America by Bon Appetit magazine.
You will want to get there early – there is always a wait here (even before opening). The other dishes – some which are oyster and seafood focused (fried oysters, clams, grilled sardines), some not (steak tartare, jamon) – are all on point and use the finest seasonal local ingredients.
What to order: The oysters – one of each please! Get there during the first hour of opening (4-5pm) for oyster happy hour, which means they are all 50% off.
2234 1st Ave, Seattle, WA 98121
Local 360 focuses on sustainability and local 360 – all the ingredients, beer, and wine served in the restaurant are sourced within 360 miles of Seattle. Their belief is that food should support local farmers who take care of the land for future generations to come, that sustainability should be a daily choice, and that food should have whole and natural flavors.
Their brunch is one of my favorites here, and I also enjoy their happy hour. Everything is fresh and delicious – one of my favorites in Seattle.
What to order: Biscuits & gravy, and PB & J bon-bons
Poppy does a Pacific Northwestern (aka hipster) spin on thalis, which are essentially an Indian platter made up of various dishes and sides. They are literally the cutest thing ever (and very Instagrammable).
Poppy focuses on using fresh seasonal ingredients featuring various herbs, which are grown in a garden right at the back of the restaurant. The menu is constantly changing on what's in season. The desserts and cocktails here are also fantastic as well.
What to order: A thali – whatever is in season. Also get a dessert thali because they are adorable and delicious.
Caroline Ikeji | Pictures & Words
---
Denver, Colorado
Denver is one of the fastest growing cities in America, which means the food scene is blossoming in a frantic attempt to catch up. Although nowhere near as diverse as cities like Chicago and San Francisco yet, Denver cuisine is innovative and starting to make a national name for itself thanks to an influx of talent and publicity (including the most recent season of Top Chef).
A fit and health-focused state, local, seasonal and farm-to-table are all major buzzwords around here, and these five hot spots embody the best of Mile High dining!
1441 Larimer St, Denver, CO
Troy Guard is one of Denver's best chefs and restaurateurs with more than a handful of successful venues under his belt. TAG is one of his OG ventures, withstanding the test of time in hopping Larimer Square. Drawing inspiration from Asia, Hawaii, and Latin, his fusion small plates are meant to be shared and celebrated.
What to order: Flash Seared Hamachi with Pop Rocks
1701 Wynkoop St #155, Denver, CO 80202
When Union Station was revamped in 2014, it became as much as a nighttime destination as a transportation hub. There are tons of restaurants and fast-casual spots to grab a bite in the train station, but Mercantile was always the reliable staple, even voted best new restaurant the year it opened.
What to order: Squid Ink Spaghetti
3350 Brighton Blvd, Denver, CO 80216
The Source was one of the pioneers in the food hall trend in Denver, and Acorn has been one of the cornerstone tenants since the market opened. A hip warehouse conversion dressed in street art and graffiti, the ambiance is as iconic as the dishes are as flavorful.
What to order: Key West Royal Shrimp & Grits and the Tomato Braised Meatballs
2030 W 30th Ave, Denver, CO 80211
Linger is a bit of an anomaly in that it's as known for it's quirkiness as much as its flavor. The restaurant is in the location of a former mortuary, and it prides itself on being an "eatuary." Dishes from around the world are served on tables that yes, used to be used for autopsies. Regardless, the food is balling, the scene hopping, and the people watching tops. Their rooftop has some of the best sunsets and city views in all of Denver with drinks served out of a retro VW van.
What to order: Devils on Horseback
3200 N Pecos St, Denver, CO 80211
One of Denver's most happening food halls, AVANTI opened with the concept of providing potential restaurant ventures a place to test out their idea with a short term lease before committing to being a full-blown brick and mortar. Some of the best food trucks in town have outposts here so you can try food from a variety of purveyors and niches all under one roof.
What to order: Arepas
Lauren Monitz | The DownLO
---
Los Angeles, California
Bestia is a buzzing modern American Italian restaurant located in a former warehouse. It has a really cool vibe, with an amazing seasonal menu. You really can't go wrong with anything you order here. Make sure to make reservations in advance. Getting a seat can often be difficult unless you're willing to have a very early or late dinner.
What to order: Ask your server! The seasonal menu is constantly changing.
Scopa is one of my favorite restaurants in LA! It has a fun and trendy vibe, with amazing food. While the dishes aren't inventive or unique, they are made of fresh seasonal ingredients and absolutely delicious. I've loved everything I've tried here.
What to order: Squash blossoms, one of the seasonal crudos, at least one of the pastas.
If you're going to have a splurge dinner in LA, let it be Nobu. You'll pay a pretty penny, but it'll be worth every single melt-in-your-mouth bite. Make reservations in advance, go around sunset, and try to get a seat outside so you can also enjoy the ocean as you dine on some of the best sushi LA has to offer.
What to order: Meyer lemon albacore, lobster tacos, artichoke salad, black cod with miso.
Known to be one of the best pizza spots in LA. Like anything good in LA, it comes at price and requires reservations, but you may not be able to eat any other pizza again after this one.
What to order: Any of the pizzas, mozzarella from the mozzarella bar.
Any trip to LA must include lots and lots of tacos. Recommending the best tacos in LA is beyond the scope of this post (there's A LOT), but I think you'll be more than pleased with Mexicali. It's a popular hole-in-the-wall serving up the best of Mexicali comfort food all made with fresh seasonal ingredients. Great tortillas, great salsas, great taco combinations. There's a reason why Mexicali is on LA Weekly's 10 Best Tacos in LA list.
What to order: Any of the tacos, vampiro quesadilla, Mexicali fries.
Lena & Bassam | Happily Ever Adventures
---
Cape Charles, Virginia
Virginia's Eastern Shore isn't just an outdoor adventure paradise, but a foodie heaven for those who love fresh seafood, often paired with a pastel sunset. The waterfront town of Cape Charles is a top location to base your trip, with a few must-savor restaurants including:
33 Marina Rd, Cape Charles, VA
Not only is their tuna burger the bomb, but if you've never had an Orange Crush, this is the place to do so. This popular coastal Virginia cocktail blends vodka, triple sec and fresh squeezed orange. Sit outside on their outdoor patio and watch the sky fade from purple to orange, with passing boats helping to set the scene.
32246 Lankford Hwy, Cape Charles, VA
This tasty indoor-outdoor eatery mixes chill music, beach play and good food. Order your favorite tiki drink with a plate of crabcakes or coconut fried shrimp. The restaurant is right on Sunset Beach, and you can work off your meal with swimming or kayaking.
227 Mason Ave, Cape Charles, VA
The one indoor eatery on this list, most of the Cape Charles locals I consulted about food touted this as their favorite restaurant. You may not see the sunset, but you will eat seasonal fare prepared by a classically trained chef. While the menu is seafood heavy — you can't miss their seafood pastry of the day — you'll find a few meat dishes, too. Pair with a glass of local Chatham Vineyards wine.
Jessie Festa | Jessie On A Journey
---
Vermont
With the second smallest population of any US state, the tiny kingdom of Vermont is still home to a big number of amazing restaurants. Instead of featuring one city (although Burlington is its biggest and most restaurant-heavy), I'm sharing some of the best spots in the entire state.
1101 Cloudland Rd, Woodstock, VT 05091
With a big love of all things local, Vermont cuisine is highly focused on farm-to-table dining. Cloudland Farm, just outside of Woodstock, Vermont, is as farm-to-table as it gets. Set upon a working farm that's over a century old, this farm restaurant serves unique meals on Thursday, Friday, and Saturday evenings.
Driving 4 winding miles into the hills, Cloudland Farm sits atop a rolling field. Enjoy a BYOB beverage on the wide porch before your dinner begins. The nightly menu is constantly evolving, serving inspired farm fresh dishes in a beautiful cozy barn setting. Truly, this dining experience is exquisite, and your taste buds will be in heaven.
115 Church St, Burlington, VT 05401
Burlington, Vermont is full-to-bursting with an array of delicious restaurants. One must-try spot is set right on popular Church Street. Leunig's Bistro is one of the oldest restaurants in Burlington. It is a blend of French cuisine and hearty Vermont fare. Sit outside on the patio and people watch while listening to live music.
Lunch, dinner, and Sunday brunch are equally nice at Leunig's, but dinner is a classic here. Try the Duck Confit Poutine appetizer for a taste of Quebec, and for your entree, you can't go wrong with Beef Bourguignon.
5183 Main Street, Manchester, VT 05255
Down in the south of Vermont is the quaint town of Manchester. Here, you'll find a historic dining experience at Ye Olde Tavern. This colonial era tavern was built in 1790 and makes you feel as if you've stepped into a piece of New England history.
The restaurant is cozy and candlelit, with delicious "Yankee Favorites" topping the menu. (Think traditional roast turkey dinner, chicken pot pie, and more). Every meal is served with their signature cranberry fritters and Vermont maple butter. Heavenly!
Amy & Nathan | Two Drifters
---
New Orleans, Louisiana
Not only is Antoine's Restaurant the oldest family-run restaurant in the United States, but there are 15 dining rooms and a wine cellar with 30,000 bottles. You must try the signature souffle potatoes during your visit!
Nestled a little ways outside of the French Quarter in the Garden District, you need to visit this iconic restaurant for .25 cent martinis at lunch.  If you're feeling adventurous, you should try the turtle soup, pecan-crusted gulf fish, and don't forget the bread pudding souffle for dessert!
You come to Cafe Du Monde for beignets and beignets only, which you can then wash down with a cafe au lait. Cafe Du Monde is open 24/7 so you have no excuse to miss out on a visit during your New Orleans trip.
NOLA has some fantastic jazz brunches and the one at Broussards did not disappoint. Make sure to start your morning off with a Brandy Milk Punch cocktail and end your meal with bananas foster for dessert.
Jennifer Aspinwall | World On A Whim
---
Berkeley, California
Super Duper is a local Bay Area chain with a simple menu that focuses on fresh, high-quality ingredients, while keeping prices reasonable and affordable. The burger is the star of the show here, but they also make a delicious chicken sandwich if you're not into beef. The breakfast sandwich is also tasty and affordable if you are looking for food before 11am!
This combo pizzeria, bakery, and cheese shop has been a Berkeley establishment since the early 70s and is 100% owned by the workers. Each day locals and visitors form a long line out the door waiting to grab a slice, or entire pie, of the one type of pizza being made that day. You're stuck ordering whatever the pizza of the day is, but everything coming out of their oven is gold.
Ippuku is an izakaya-style restaurant that nails the entire vibe, aesthetic, and experience of dining in Japan. The specialty here is yakitori, a Japanese style of skewered chicken. The meat is simply prepared with minimal ingredients and grilled over a charcoal fire. In addition to all of the chicken item, the grilled squid is a must-try at Ippuku.
Arguably the most famous restaurant in the Bay Area and one of the top in the country, Chez Panisse is the famed restaurant by Alice Waters known for kicking off the farm-to-table movement in the 1970s. The location consists of the flagship location downstairs with a more casual cafe experience upstairs. The cafe offers an a la carte menu while the restaurant menu is prix fixe.
Kristen Furtado | Travels & Treats
---
New Haven, Connecticut
I don't even know where to begin when it comes to Pacifico, as almost everything on the menu blows me away. This is definitely the place for cocktails and happy hour. The social scene here is also great whether you're solo or out with friends. My favorite thing on the menu would have to be the Churrasco a la Parrilla, this is grilled steak with chimichurri, which hits the spot every time.
The best thing I've tried here has been the Shrimp Pad Thai for sure. You really can't go wrong with this dish. It's always fresh and flavorful and honestly if I could I would eat here weekly.
I've been to Barcelona in Norwalk, CT and I've also been to Barcelona in Fairfield, CT. Needless to say Barcelona is one of my favorite restaurants here in Connecticut. On top of the amazing food they offer, Barcelona of New Haven also has a great atmosphere. You can definitely enjoy a meal here solo or with friends the management and wait staff are great.
But my favorite thing on the menu has to be the gambas al ajillo, a tapas dish of shrimp and garlic. You can smell it coming from a mile away and once it gets to you, it's tempting not to order another one immediately.
KJ Aponte | KJ Around The World
---
Kansas City, Missouri
A trip to Kansas City is not complete without having some legendary Kansas City barbecue. The good news is no matter where you are in the city, you are never very far from the dish talked about around the world. Here are my favorite Kansas City BBQ joints:
A more recent player in the BBQ game is Jack Stack. They are a well funded operation that is setting up locations all over the city as well. It is very likely you are always within a few miles of one of the restaurants. They seem to have the best pulled pork sandwich in town.
Everyone from Danny Glover to President Obama has visited Arthur Bryant's at 18th and Brooklyn. I personally enjoy a nice plate of ribs and their in house fries. The sauce is based on vinegar so it is very different than most of the other barbecue shops around the metro.
The other world famous option is Gate's Barbecue. There is several different locations and they are open all day. I highly recommend the Rib tips with their sauce. They also have nice thick fries made right on location. The location on Linwood and Main seems to be the best for tourists.
No matter which option you choose, make sure that some Kansas City barbecue is in your plans!
Peter Vandever | SLR Foundry
---
Asheville, North Carolina
Asheville is one of those cities that just has it all, but one of the things it does best is food! It has the perfect combo of classic southern-style foods, ethnic restaurants, BBQ and more. It's hard to choose where to eat first, but there are a few staples that I have to have every time I visit Asheville.
733 Haywood Rd, Asheville, NC 28806
The thing to order at Biscuit Head is, you guessed it, biscuits! They have specialty ones, but my favorite is to order a plain biscuit with a side or two and take advantage of their massive jam bar, loaded with unique, homemade jams. Go for breakfast and go early, they get packed!
8 Wall St, Asheville, NC 28801
Located in the heart of downtown, this is the ultimate farm-to-table experience in Asheville. The things I often order here are the multi-grain pancakes with home fries. However, I can easily be swayed by their daily specials.
1 Roberts Street, Asheville, NC 28801 (more locations here)
They're not serving up your typical tacos. Instead think of flavors like Bahn Mi Tofu, Beef Bulgogi and more! My personal favorite is the Bangkok Shrimp and don't forget the chips and queso. Theirs is some of the best!
501 Merrimon Ave, Asheville, NC 28804
Who doesn't love BBQ? North Carolina is famous for its BBQ and Luella's is my go-to! I highly recommend their pulled pork or ribs and don't forget the squash casserole on the side.
Paige Wunder | For the Love of Wanderlust
---
Kiawah Island, South Carolina
700 Governors Dr, Kiawah Island, SC 29455, USA
Situated on the Osprey Point Golf Course, Cherrywood has award winning food, exceptional service, and a fun laid back Southern vibe. If you sit on the wrap around porch, you can watch alligators right below. Anything on this menu is delish but ordering the Mac and Cheese is a must and in the best meats are the pork and turkey. Finish it off with a key lime pie!
219 Farm Lake View Road, Kiawah Island, SC
This local cantina and tacqueria uses the best of South Carolina veggies and meats and puts together some seriously yummy tacos. It is relatively inexpensive, laid back, and quick if you are in a rush. Our favorite things on the menu are; The dirty queso, the black bean sides, the chicken pesto taco, and the BBQ brisket taco. If you are extra hungry, the chimichanga is a ten out of ten!
1 Sanctuary Beach Drive, Kiawah Island, SC 29455
Jasmine Porch offers an self proclaimed "elevated low country" cuisine and is absolutely sublime. It is fine dining at its best but without the stuffiness. Nearly everything on the menu is delicious, well prepared, and beautifully served. It is easier to say what not to order, and we have loved everything with the exception of the bone in fish. Make sure that someone orders the crab bisque – you will not be disappointed!
Kamree Gale | Our Family Passport
---
Queens, New York
If there is any city in the USA that has a better variety of food than Queens, I don't know it! Queens is the most ethnically diverse place in the entire world, with well over 130 languages spoken in its area. You can eat everything from Sichuan to Nepalese to Filipino to Paraguayan and so much in between.
For some of the most legit Thai food in Queens, you can't miss Khao Kang. My favorite dish is the kra pao moo, which is spicy minced pork with basil. You can choose any 3 entrees you like plus rice for less than $10 so it's great if you want to sample a few different dishes. Be warned that "spicy" here is insanely spicy!
There are countless varieties of Chinese food in Queens' many Chinatowns, but Sichuan is one of the tastiest – and also one of the spiciest! You can't miss the Chongqing chicken if you like spicy food – made with three different peppers, it's just about guaranteed to make your mouth numb! If you can't tolerate spice, try the cold sesame noodles and the twice cooked pork.
If you're a fan of Korean food, head over to Flushing and Bayside in Queens – the area around Northern Boulevard is where you'll find some of the best Korean BBQ in the U.S. My favorite thing to order is the LA galbi, which are thin-cut marinated beef short ribs in a delicious, slightly sweet glaze. They taste great with ssamjang sauce and wrapped in lettuce! I also love the ban chan, which are the free side dishes that come with every meal you order.
Only in Queens will you find the best Tibetan food inside of a phone shop! I'm obsessed with the momos at Lhasa Fast Food. The "restaurant" is quite small (if you can even call it that!) so be prepared to wait. But the beef momos with the spicy sauce are well worth the wait.
This small, bare bones dumpling restaurant is located in the basement shopping mall called "Golden Shopping Mall" which has some of the best food in Queens. My favorite thing to order here are the lamb and squash dumplings, but the vegetarian dumplings are quite simply the best veggie dumplings I've ever eaten in my life. If it was good enough for Anthony Bourdain, it's good enough for me!
Allison Green | Eternal Arrival
---
Nashville, Tennessee
Nashville is known for its hot chicken, its barbecue, and its spin on Southern cuisine. There are plenty of places in Nashville worth stopping into when visiting Music City, but here are my favorites!
Warning – order the hottest level (aptly named "Shut the Cluck Up") at your own peril! The chicken is spicy as hell. I was just barely comfortable with the "hot" level, which is the 3rd spiciest! I also liked the black eye pea salad and the pimento mac and cheese as sides.
Some of the best pulled pork in the world can be found at Martin's, just a short walk from downtown Nashville and the honky tonks of Broadway. The ribs are also delicious, falling off the bone and spiced perfectly. And don't miss a slice of pecan pie for dessert!
The best restaurants you can find on Broadway is Acme, which also has excellent music, a fun rooftop bar, draft beer specials, and of course – amazing food! My favorite are the 'beer belly tacos' which come with a pickled daikon and carrot slaw similar to what you'd find on a banh mi. It works perfectly with delicious pulled pork!
Allison Green | Eternal Arrival
---
Louisville, Kentucky
Butchertown Grocery is one of the best restaurants in Louisville. It's located in a neighborhood called Butchertown, which was filled with warehouses and factories when I was growing up but has since evolved into an uber-hip district filled with art spaces, theatres, and distilleries. Everything at Butchertown Grocery is amazing, hand-crafted, artisanal, and deliciously boujie, but our favorite meal of the day here is brunch.
Try the pecan salad topped with jalapeno blue cheese ice cream, or a heaping plate of candied chicken & waffles (bring a few friends to share), You'll also find an incredible selection of drinks, like a Bloody Mary with a shank of bone marrow in it. Or just head upstairs – there's a speakeasy hidden in the attic!
Proof on Main, the unique restaurant in Louisville's famous 21C Museum Hotel, is every bit as quirky as its hotel home. Redecorated regularly with its own series of installations, the restaurant is an art museum in its own right. Oh, and the food is magnificent.
Proof is an excellent place for brunch, lunch, and/or dinner (why not 3 in a day?). Dinner options at Proof include a blackberry pop tart with chicken liver pate & cracklin', braised rabbit ragout, and roasted bones. What are roasted bones? I guess you'll have to visit Proof and find out…
GraleHaus is another one of our favorite brunch spots in Louisville. It's multi-functional: part bar, part coffee shop, part restaurant, and part Bed & Breakfast. Food highlights include the oyster mushroom crepe, duck hash, and ground lamb with grits.
In addition to delicious food, they serve just about every type of beverage you could want. Kombucha, cold brew, beer, mimosas…. they even have crazy coffee drinks, like a Sorghum Cortado and a Lucky Charms Latte (yes, made with the milk left over from a bowl of Lucky Charms. You know you want it).
Lia Garcia | Practical Wanderlust
---
St. Louis, Missouri
In the midst of the American heartland, and once the gateway to the west, St. Louis has long been a throughway. All that traffic has left the city an interesting blend of culture, and foods, so you can find a bit of everything. Gourmet choices may be limited, but delicious food is not! Read on to find out my top picks.
St. Louis is known for two all-American foods: St. Louis Barbecue, and Ooey Gooey Butter Cake. Try St. Louis Barbecue at Pappy's Smokehouse. It is is the absolute best!  If you prefer sweets, try Ooey Gooey Butter Cake at Park Avenue Coffee. Another American specialty that locals brag about is Gus' Fried Chicken. They say it beats anything found in the south.
Visitors are often surprised to learn that St. Louis has an Italian neighborhood called The Hill. There really is no hill, but there ARE numerous restaurants, almost all owned by Italian families. Maybe not every Italian mother was a fabulous cook, but we have never had a bad meal in The Hill.
6235 Delmar Blvd, St. Louis, MO 63130 (more locations here)
For a different twist on street tacos, try Mission Taco Joint. Not only will you find true Mexican tacos, there are a number of other creative options, and some vegan choices.
736 S Broadway, St. Louis, MO 63102
Our overall favorite is Broadway Oyster Bar. It is downtown and gets a bit touristy around game time, but people come from miles around for the music and the food. It may be the best cajun outside of NOLA, and it is truly sumptuous. Be prepared to wait though, as Broadway usually has a crowd.
Roxanna Keyes | Gypsy With A Day Job
Widely known as the Godfather of Southern Cuisine, Frank Stitt and his wife and partner Pardis Stitt have owned and operated the Highlands Bar and Grill in downtown Birmingham since 1982.
The menu changes very frequently but you truly can't go wrong. Armed with classical French training, Stitt transforms Southern ingredients into sheer works of art. After being nominated for Outstanding Restaurant by the James Beard Foundation, Highlands took home the honor in 2018.
To order: Stone Ground Baked Grits with Prosciutto, Mushrooms, Thyme. The most elegant plate of grits you'll eat in your entire life. 
Just down the block from Highlands Bar and Grill is Chez Fon Fon, Highlands sister restaurant but the vibe couldn't be more different. As soon as you walk in you are transported to a bustling cafe packed to the gills with friends and families eating, drinking, and celebrating, sometimes for no reason at all.
The hamburger is grilled to perfection on a pillowy brioche bun and served with a silver cup of golden frites. Their desserts are out of this world, the Coconut Cake being their signature. Their pastry chef Dolester Miles won Most Outstanding Pastry Chef honor from the James Beard Foundation in 2018.
To order: Hamburger and a slice of Coconut Cake.
It may seem silly for a deli to make a best of restaurant list but I'd be willing to put it up against any in the entire country. They've been around for decades and grown so much so that they have locations all around the city. I am from Birmingham, Alabama originally and grew up going to the OG location in the Homewood neighborhood of Birmingham.
The place is teeny tiny so you may end up sitting at a table with total strangers but that's just part of the experience. Seriously, the best chicken salad I've ever had. You can get it on a sandwich with a salad or with fruit; my favorite. Not your run of the mill bunch of grapes; I'm talking starfruit, apple, melon, papaya, berries, the list goes on and on.
When you walk in the door, look to your left and you can see the staff quickly carving the fruits up for each plate. If you have room, get a chocolate milkshake –  they're old school and totally worth every bit.
To order: Chicken Salad & Fruit Plate.
Emily Hines | Em's On The Road
​El Farol is a lively cantina set in a rambling old house that brims with history and art. Ever since the 80's, this quaint canteen has been the go-to place to hear live music. The menu features traditional Spanish tapas to enjoy while sipping margaritas and enjoying Santa Fe's most classic musical atmosphere, including flamenco. The walls of El Farol are an attraction of their own, featuring stunning murals and vintage photographs of New Mexico.
Much like El Farol, Caffe Greco is set in Santa Fe's most quirky street: Canyon Road.
Filled with independent art galleries, cozy cafés, and lively colors, this street is one of Santa Fe's most iconic places for all things artsy.
Caffe Greco is a colorful café that lives up to Canyon Road's creative vibes. Try Santa Fe's signature dish here: green chili cheeseburger at the café's art-filled patio amid unconventional sculptures and paintings.
This quaint little restaurant is the go-to spot for Santa Fe's locals to delve into traditional New Mexican cuisine. It's set inside white adobe walls, all which are decorated with traditional decor.
Their house specialty is blue corn enchiladas, paired with a glass of margarita, of course!
Phoenix, Arizona
3434 N Val Vista Dr, Mesa, AZ 85213
Roadside barbeque at its finest! If this is the only place you eat in the greater Phoenix area, you are going to be winning. Don't miss the ½ pound brisket sandwich oozing with peanut butter and grape jelly. It sounds strange – but I promise – it does not disappoint. You'll find yourself returning just for this!
5532 N Palo Cristi Rd, Paradise Valley, AZ 85253
Located inside a smaller luxury hotel, LON's is coming in hot with one of the best restaurants in the area. Highly recommend the braised beef short ribs with the goat cheese polenta! The meet is juicy and savory – and the chef has prepared it to perfection!
6054 N 16th St, Phoenix, AZ 85016
Best place for artisan ice cream! The sorbet AND the ice cream is sensational. The turtle sundae with bacon and the 3 scoop sorbet were favorites.
7500 E Doubletree Ranch Rd, Scottsdale, AZ 85258
The menu will most likely not be the same with each visit but the chefs do a really great job of pairing food and beverages. The chef plays with southwest flavors and pairs tequilas and wines with the dishes.
4925 N Scottsdale Rd. Scottsdale, AZ 85251
Located inside the Scott Resort and Spa – The Canal Club is both an interior designers dream AND a place worth dining! I recommend the paella as I found it to be both fresh and cooked perfectly.
Nicole Sunderland | Eat Live Travel Drink
---
Napa Valley, California
Napa Valley, California, is home to numerous world-class restaurants. Here are my picks for the most awesome eats in Northern California's famed wine country:
Chef Thomas Keller's acclaimed restaurant boasts three Michelin stars. Two tasting menus are offered daily, one of them vegetarian. According to the restaurant, no ingredient is ever repeated in the course of a meal. The menu changes daily, and the presentations are works of art. If you want to go, you'll need to make a reservation several weeks in advance. Perfect for that very special dinner!
I love Farmstead's rustic ambiance and focus on farm-fresh ingredients. Their kitchen garden is right next to the restaurant! Their menu changes, but I love their warm burrata appetizer and their savory Cheddar biscuits! Every entree I have had at Farmstead has been delicious so you can't go wrong with anything on the menu. Ideal for lunch. Call ahead and make a reservation.
Gott's actually has quite an extensive menu, but they are famous for their burgers. I have never passed by Gott's in St. Helena without there being a long line of customers waiting for their turn to sample one of the Napa Valley's most famous offerings. My husband loves the Kimchi Burger!
Dhara | Not About The Miles
---
Orlando, Florida
Orlando has truly risen to the challenge of incredible cocktail and cuisine programs to rival some of the top culinary cities of the United States. Here are a few of my favorite local spots!
8060 Via Dellagio Way, 
Orlando, FL 32819

(through the unmarked elevator door)

Speakeasy themed bars and restaurants have been popular for quite some time. This swanky spot in the Dr. Philips neighborhood is tucked away behind an unlabeled elevator door at the end of "Restaurant Row'.

The food menu rotates based on seasonal creations, but one of my favorites that has lasted on the menu has been the bone marrow. The cocktails are boozy and unique, with respectful nods to prohibition era ingredients and flavors.
East End Market, 3201 Corrine Dr Suite 100, Orlando, FL 32803
Ramen inspired cuisine has really hit the United States foodie trend hard in the past two to three years.  Domu makes their own broths in house as well as cooking their pork belly to perfection, tender and flavor packed, I always order an additional pork belly on whichever bowl I choose.
Often the wait time in their original Winter Park location can be almost an hour, but I don't mind, the bar offers creative and well-crafted cocktails while you wait.
802 Virginia Dr, Orlando, FL 32803
I have enjoyed Santiago's for every possible meal offering over the years, and each time I just leave feeling so happy and a bit giddy. The décor is charming with an eclectic blend of art, whimsical mismatched chandeliers and bright colors. The food menu also rotates seasonally, but what I love is the tapas style dining.
Everyone in your dining party orders a few plates and shares across the table. The flavors are always bold, and each dish is well prepared and artfully presented.
Kristin | Sippin Gypsy
---
Oklahoma City, Oklahoma
Fuzzy's is the perfect middle ground between fast food and a sit down restaurant. The ingredients are fresh and the atmosphere is buzzing – especially on game day! The frozen margaritas are delicious too.
What to order: Shredded Chicken Taco, Chips & Queso
Located in the trendy plaza district, Empire Slice House is the best pizza in OKC. They've also just opened up Easy E next door, where you can grab your favorite slice to go.
What to order: MCA
One of the best spots for brunch in OKC! There are pancakes, chicken and waffles, or eggs Benedict, all washed down with a boozy brunch cocktail.
What to order: Famous PanOKCake
4315 N. Western Avenue, Oklahoma City, Oklahoma 73118
Named after legendary samurai swordsman Miyamoto Musashi, this Japanese steakhouse does excellent sushi and other Japanese dishes. Sit at the bar to watch your food made with artistry right in front of you.
What to order: Shrimp Tempura Roll
Unique gourmet burger choices to suit every taste, complete with a rock and roll theme. The burgers are juicy and mouthwatering, perfectly complemented by their milkshakes and soda floats.
What to order: Sir Bac-A-Lot Burger
Joe and Kayla | JKGO
---
Manhattan, New York
Ippudo remains one of the best ramen houses in New York City. You'll always wait in line for at least 1 hour for dinner – lunch time is an excellent way to slip in for under an hour wait, or if you're extra smooth, arrive right when they open at 11am! Each time you wait, it will be worth it.
As quoted on their website "Ramen is a Microcosmos in a Bowl, and Ramen is Japan's Soul Food." I couldn't agree more! Whether it's a cold winter day where you need the warmth and comfort of a hot, satisfying bowl of ramen, or a scorching summer day where you crave the taste of supremely delicious and consistent food.
Once you are in, your presence is announced in Japanese that a new customer has arrived, they quickly lead you to your table in the eternally crowded restaurant. It's for a good reason. Now, I used to live across the street from this Ippudo location, literally, and I couldn't get enough of it!
Do not miss the Hirata chicken buns– you'll suddenly find yourself in need of a savings account dedicated to these chicken buns, start with one order, then do yourself a favor and get at least one more! Also notable is the ever-changing appetizer menu, but one item that remains year-round is the shishito peppers for the spicy-inclined, and for ramen, always go for the classic! Shiromaru Hakata Classic ramen: pork broth with Ippudo Westside's signature thin noodles, pork loin chashu, sesame kikurage, mushrooms, menma, red picked ginger, and scallions.
If there was ever a restaurant I wanted to live inside, it's Empire Diner! It's my goal to try everything on the menu one day. Empire is a Chelsea neighborhood classic since 1976 and was revamped by chef John DeLucie who partnered with another Chelsea institution: Cafeteria.
It's easy to see and feel the influence from Cafeteria's solid, honest food when you step into Empire, but you also feel the unique charm of Empire's location and modern design against the traditional New York buildings. The last time I met a good fellow foodie friend there, and I ordered the soft scramble eggs cacio e pepe, the waitress confessed that when she started working there, she ate that exact dish everyday for 2 months!
New American food has continued to be innovative in a way that is both familiar and comforting while being putting a twist on some of the most treasured foods we have grown up eating. For those that need the power of protein in the morning like I do, my first choice is always eggs. The soft scramble of the eggs is perfectly soft without being too runny, the cracked black pepper is just the right amount sprinkled on top, and the parmesan and speck add another level of comfort and beautiful salty texture to this spectacular breakfast dish. (Bonus: you also get some French bread alongside this dish, making it absolutely perfect!)
They serve breakfast until 4pm, which is very helpful for varying NYC or visitor schedules, and being open from 8am-1am makes a visit there a no-brainer!
Barbara Sibley, owner and chef of La Palapa, was born and raised in Mexico City. This makes all the difference in the world for her approach to her cuisine! You'll feel the passion and authenticity of her love for her home in every dish. La Palapa truly remains one of the solid institutions of authentic Mexican restaurants in New York City, and for anyone who thinks New York City doesn't do Mexican food well, please visit this restaurant!
Opened since 2000, you'll be sure to find a delight for all of your senses at La Palapa. Her expert way of serving food that has a lot of textures and flavors makes it an experience that you'll want to have weekly! La Palapa serves breakfast, brunch, lunch, dinner, dessert, and caters. The unique and authentic approach comes from Barbara's studies of anthropology in addition to a love of collecting "traditional, rare, and ancient Mexican recipes including 17th century recipes from Mexico's convent kitchens," according to the website.
Her approach to cocktails involves many layers of flavors- I suggest one of the flavored frozen margaritas – my personal favorite is Hibiscus Tamarind. For dinner, don't miss the Enchilads de Pollo Verdes o en Mole Rojo (chicken enchiladas in your choice of tomatillo green salsa or rich red mole), with housemade queso fresco, mexican crema, sweet onion.
If you have room for dessert, try the Parfait Azteca de Oro, or sweet harvest corn ice cream parfait with home made cajeta with toasted macadamia nuts. You'll thank me later!
Mira Zaki | The Healing Art of Travel
---
Austin, Texas
900 E 11th St, Austin, TX 78702
Google "America's best BBQ," and you'll find Franklin's BBQ ranked pretty high up on the list. As if the glowing reviews aren't enough, the four hour queue you'll face at the store is pretty much a testament to just how perfect these smoked brisket, tender pulled pork, and tasty ribs are.
With a 4.5 star rating on Yelp, there's no doubt that the BBQ there is worth the wait – some might even say that it's to die for, especially the brisket that melts in your mouth.
6808 North Lamar Boulevard, #B-110, Austin, TX 78752
There was a time when I was obsessed with Poke Bowls. Sadly, these bowls of deliciously sauced raw fish chunks do not come cheap. I stumbled upon Ola Poke by chance, and upon discovering that they did not charge extra for an avocado scoop (unlike many other Poke restaurants), I knew that I had hit jackpot.
Their house sauce is a must try, if you like your Poke on a slightly tangy-sweet note. They also offer a generous scoop of crab meat, which gives the bowl a creamy and soft texture. I'm not trying to be dramatic or over-hype this place, but Ola Poke has changed my life and I've not come across a more delicious or affordable Poke bowl in the US.
316 East 6th St., Austin, Texas
78701
Conveniently located on Sixth Street – a place known for its vibrant nightlife, it's impossible for you to visit Austin and not have a taste of Roppolo's Pizza. Nothing wraps up a night better than a huge, warm slice of cheesy pizza topped with pepperoni, bacon, sausage, and meatballs. If you're a meat lover, The Godfather ($5.25) would be your best pick.
1400 S Congress Ave Ste A190, Austin, TX 78704
Primetime burger. Truffle parmesan fries. Nutella & Chocolate Pretzel shake. Everything I've tried at the Hopdoddy Burger Bar is divine. There's usually a long queue, especially on the weekends, but the line moves pretty quickly.
The food and milkshakes at Hopdoddy boast rich flavours that will satisfy you to the bone. Also, bring your friends or family along with you so that you can try out a greater variety of dishes such as the Sweet Potato Fries. You'll also save yourself from the dilemma of choosing just one milkshake, out of all the delicious sounding concoctions.
Emma Lee | Exchange Buddy
---
South Lake Tahoe, California
1900 Jameson Beach Rd., South Lake Tahoe, CA 96150
The Beacon is a local favorite in the historic Camp Richardson area. With incredible beach views and live music during the summer months, this is the perfect spot to spend an evening on the beach at Lake Tahoe. Locals rave about their fish and chips, and they make a mean Caesar salad. Don't miss their famous Rum Runner frozen drinks too!
900 Ski Run Boulevard South Lake Tahoe, CA 96150
The Riva Grill is another waterside dining location with awesome beach views at the Ski Run Marina. You'll definitely want a patio seat if you're there in nice weather. Their menu is so good that it's hard to pick just one dish, but you can't go wrong with anything that comes with fries – theirs are some of the best I've ever eaten.
4000 Lake Tahoe Blvd, A1 South Lake Tahoe / 2556 Lake Tahoe Blvd South Lake Tahoe
This amazing pizza place has dine-in and delivery options from their two South Lake Tahoe locations and everything I've had from them is delicious. The Walk the Dog pizza – featuring white sauce, cheese, spinach, chicken, bacon, and garlic – is absolutely heavenly.
Kris | Nomad By Trade
---
Charleston, South Carolina
Charleston, South Carolina is a foodie haven and you cannot go far without finding some of the best Southern food you will ever eat. In fact, the food is a big reason why I keep going back.
476 1/2 King St, Charleston, SC 29403
There are two locations in Charleston to get your biscuit fix: 476 1/2 King Street and 188 Meeting Street in City Market. Get here early or be prepared to wait in a line that stretches out the door.  The "three little biscuits" are great when you want some variety.
155 Meeting St, Charleston, SC 29401
I love the French Toast here. It is an extraordinarily thick piece of currant bread perfectly cooked on the outside and delightfully custardy on the inside.
302 Coleman Blvd, Mt Pleasant, SC 29464
The shrimp and grits with andouille cream sauce is phenomenal. For the true Southern experience, order a side of fried okra. A perfect place to visit after the beach and the patio is dog-friendly.
207 Rutledge Ave, Charleston, SC 29403
Another great place for shrimp and grits. Topped with mushrooms and bacon, it is a little less decadent than the shrimp and grits from Page's but more than makes up for it with flavor.
1075 E Montague Ave, North Charleston, SC 29405
As if the food wasn't enough of a draw, grab a seat at the bar, order a craft beer, and watch the pizza maker in action. I can vouch for the perfection that is the Pork Trifecta pizza.
Kristal | Adventure Dawgs
---
Buffalo, New York
4545 Transit Rd, Buffalo, NY 14221, USA
When in Buffalo, you have to eat Buffalo wings and Duff's is a great place to try them if you want to turn up the heat. Duff's wings may blow your head off. To make things confusing, medium is hot, medium hot is very hot and hot is very, very hot.
5479 Main St, Williamsville, NY 14221, USA
For a proper breakfast, head to the Original Pancake House. Try peanut butter pancakes with a strawberry sauce and wash it all down with a bottomless cup of coffee.
1065 Wehrle Dr, Williamsville, NY 14221, USA
Buffalo is famous for beef on weck and Charlie the Butcher's in Cheektowaga is the go to place to get it. Covered in salt and caraway seeds, a crusty weck roll pairs well with roast beef. Beef on weck goes perfectly with another Buffalo favorite: loganberry pop. A loganberry is a blackberry/raspberry hybrid. Buffalo is the one place in the world where I've seen the loganberry made into a sweet non-carbonated soft drink. Oh, and in Buffalo, it's pop, not soda. Don't make that mistake or you'll immediately be identified as a tourist.
88 W Chippewa St, Buffalo, NY 14202, USA
Local serves up foodie interpretations of classic Buffalo comfort food. Don't miss the perogi which are named after different neighborhoods in Buffalo. The Cheektowaga Polka, a pierogi with spare ribs and carmelized onions is my top pick.
85 W Chippewa St, Buffalo, NY 14202, USA
Buffalo boasts a thriving craft beer scene and Tap House Pub and Grill downtown is a great spot to sample local brews. Western New York is also a grape growing region. Try Deep Purple from Empire Brewing Company, a beer brewed with Concord grapes.
Jennifer (aka Dr. J) | Sidewalk Safari
---
Portland, Oregon
Mother's Bistro & Bar in Portland, Oregon is one of those places that you make you feel right at home. The breakfast menu includes some familiar favorites like Belgian waffles but the real star is my favorite dish, the wild salmon hash. This dish is so creamy and delicious I think about it even when traveling on the other side of the world!
Pok Pok became world-famous for the commitment chef/owner Andy Ricker made to creating authentic Thai dishes at this Portland-based restaurant. You won't find the typical take-out Thai dishes on the menu. Instead, order family-style and share several dishes that introduce you to real Thai food. I like the Yam Makheua Yao, a smoky eggplant salad, and Da Chom's Laap Meuang, a minced meat dish popular in northern Thailand.
Dog lovers will especially like this brunch and lunch spot that takes dog-friendly to a whole new level. This hip spot has a Pacific Northwest vibe and some of the best burgers around. I order their divine Beet Generation salad with Oregon goat cheese and hazelnuts.
For Asian fusion in a chic rooftop restaurant with city views, plan to eat at Departure restaurant. Dim sum and sushi are prepared decadently. Try ordering the miso scallops, beef rendang or crispy pork belly, and definitely sip one of their amazing cocktails!
Cerise Roth-Vinson | Enchanted Vagabond
---
San Francisco, California
San Francisco is one of the most diverse cities in the country, as such it also has some of the nation's delicious eats. From seafood, to delicious baked goodies, American-style Italian, and Chinese, there is something for everyone! Here are some of my favorites:
Sotto Mare is self-proclaimed to have "The Best Damn Crab Cioppino in San Francisco" and I've found this to be true! The cioppino is some of the best I've had in the city and the portions of one order are large enough to serve at least 2 people. It's got amazing crab flavor and super fresh seafood.
Fun Fact: Cioppino was initially made by Italian immigrants in San Francisco's North Beach as a "today's special" type of tomato-based soup by combining leftovers of the day's fresh catch, typically a mixture of crab, shrimp, mussels, and fish with onions, garlic, tomatoes, fresh herbs, olive oil, and wine.
What to order: "The Best Damn Crab Cioppino" with Seafood
1 Ferry Building #11A, The Embarcadero, San Francisco, CA 94111
Though San Francisco isn't the birthplace of clam chowder, Hog Island Oyster Company has the city's best version of it. It's fresh, creamy soup isn't overly heavy even with the potato and bacon added to it. It's much better than Boudin's on Fisherman's Wharf.
What to order: Chowder
One of the city's most renowned Vietnamese spots is Thanh Long Restaurant. They are most famous for their Chef Diana An's garlic noodles. She created this recipe when she was inspired by Italian spaghetti and created a fusion dish of her own using lots of garlic.
What to order: Garlic Noodles
Arsicault Bakery was named the best bakery in the nation by Bon Appetit. The croissants are triangles of flaky, buttery goodness. The outside is slightly crispy and the inside is soft and doughy, they are definitely the best croissants we've had outside of France. They also come in a few flavors, but we love their chocolate almond croissants the most!
What to order: Croissants, especially their chocolate almond one!
R&G Lounge, a San Francisco Chinatown institution, is famous throughout the city for their Chinese food. They're particularly known for their signature salt and pepper crab. The crab doesn't come cheap because they sell it based upon market price, but it is super delicious and totally worth it!
What to order: Salt & Pepper Crab
Constance | The Adventures of Panda Bear
---
Albuquerque, New Mexico
Sandiago's Grill offers both great food and spectacular views from the top of Sandia Crest at over 10,000 ft elevation! Ride the 2.7 mile Sandia Peak Tramway to the top for stunning sunsets, city lights and panoramic views of the Sandia and Manzano mountains. Great taco plates, cocktails and a kids menu make this fun for everyone!
Blake's Lotaburger is a local favorite for green chile cheeseburgers in a classic diner burger joint. Grab your favorite burger plus onion rings and pick a spot to enjoy it nearby at the Albuquerque Bio Park. Many locations in Albuquerque, so pick your favorite and enjoy it near the Bosque trails along the Rio Grande river or near Old Town.
Sadie's of New Mexico is where I go when I have missed home and need my green chile fix! Authentic New Mexico food includes the best tamales, chile rellenos, queso with green chile, carne and other favorites. Make sure you say 'Christmas' when they ask if you want red or green chile with your meal. You'll get both to try!
The Range Cafe has two locations and both are excellent for New Mexico diner fare served all day long. This is the place to go for breakfast or brunch to enjoy blue corn pancakes with blueberries and toasted pinon or spinach enchiladas with country turkey sausage with green chile. Casual setting and friendly staff make this a family-friendly place to go for great food in Albuquerque.
El Pinto is a long-time favorite for New Mexican food in a hacienda setting with great patio dining and views of the valley and mountains. I especially like their stuffed sopapillas, posole and chile con carne enchiladas. They also have gluten-free options and a fantastic margarita and tequila bar.
Cerise Roth-Vinson | Enchanted Vagabond
---
Lafayette, Louisiana
Lafayette Louisiana is Cajun Country and it's Southern, so your taste buds are in for a treat when you travel to Lafayette. Because it's located close to the coast means fresh seafood is plentiful. Wandering the USA and Canada on my multi-year road trip, Lafayette became home for a few months while I explored the culture via music and food, my favorite way to get to know a new place.
Here are my top 5 picks for where to eat in Lafayette, Louisiana. Enjoy!
407 Brook Ave, Lafayette, LA 70506
At brunch order the Shrimp and Grits. I also love the Fried Brussels and Pork Belly appetizer. Enjoy live music on the patio while you snarf down all this Louisiana deliciousness.
412 Jefferson St, Lafayette, LA 70501
The sushi is great, but I also love the Blackened Salmon with kimchee smothered collard greens served with brown rice.
631 Jefferson St, Lafayette, LA 70501
The Charcuterie and Cheese plate is excellent!
Glenn Murphree's grocery store and po'boy sandwiches. I go for the classic fried shrimp po'boy. Large patio and indoor seating as well.
Love the décor, go for breakfast and get the Chicken and Waffles.
Susan Moore | Solo Trips and Tips
---
Philadelphia, Pennsylvania
Forget the overrated rivalry between Pat's and Geno's. When friends visit, I only go with them because it's on their "bucket list," but I've always been slightly disappointed with their food. For the best cheesesteak in the city, go straight to Tony Luke's. Delicious cheesesteak, but also perfect for groups because there's a great vegetarian option (Uncle Mike) made with broccoli rabe, spinach, peppers, fried onions, and marinara sauce.
What to order: Cheesesteak (with American cheese, onions, and mushrooms)
This is simply good sushi. Fuji Mountain is one of my regular go-to restaurants in Philly because the quality meets the price point perfectly. Try my two favorite rolls and you won't be disappointed!
What to order: Dragon maki and the Inferno specialty roll
Sustainable seafood sourced directly from fishermen. High-quality food at a fair price.
What to order: Lobster roll + Cape Cod chips
Get the large size; the pho here is perfect and delicious. At less than $8, it'll also be one of your favorite budget meals. It's not in the prettiest part of town, but that's part of the charm. Go there for lunch on your way from the Italian Market.
What to order: Pho #1
Kay Winters | Paws and Pines
---
Waikiki –  Honolulu, Hawaii
Waikiki draws visitors in droves from all around the globe and they all have one thing in common. They have to eat. Finding sustenance in Waikiki is not difficult but I'll guide you to three of the best:
1831 Ala Moana Blvd, Honolulu, Hawaii 96815
When the massive portions served all over Waikiki get a bit too much and you are craving something a little healthier, head to Goofy's. The Acai bowls are always a big hit and I loved the local Loco Moco.
2250 Kalakaua Ave, Honolulu, Hawaii 96815
Buho offers a modern take on Mexican cuisine in the heart of Waikiki. Enter via an elevator near Victoria's Secret and head up to the 4th floor to the delightful rooftop space. Try the fajitas!
2301 Kalakaua Avenue, Honolulu, Hawaii 96815
If you are from the USA and are lucky enough to be able to eat at the Cheesecake Factory whenever you like you are probably wondering why I have included this. Well, to Aussies abroad, this is a real treat. The meals are huge and good value, but the wait at Waikiki is always close to an hour at dinner. Try the Louisiana Chicken.
Allison Smith | Flights to Fancy
---
Savannah, Georgia
Savanah, GA, should be on your must-visit list for many reasons, including walking in the shade of enormous oak trees, exploring the architecture that is more reminiscent of European capitals than American cities, and seeing Mercer-Williams house from the notorious "Midnight in the Garden of Good and Evil" with your own eyes. But my favorite is all the delicious Southern food you can find here!
107 W Jones St, Savannah, GA 31401
Start early in the day with Mrs. Wilkes Dining Room. Although this place is perfect for lunch, you'll have to come at around 9.30-10 AM and stay in line to get your hands on Mrs. Wilkes famous fried chicken. There's no a la carte menu, instead you get preset menu of Southern staples like candied yams, butter beans, beef stew and sausage. The tables are shared by 10-12 people so you end up having a meal with complete strangers, all the while chatting and getting to know each other.
151 Bull St, Savannah, GA 31401
A great spot for having a little break from exploring the city is the Collins Quarter. Here, you must order lavender spiced Mocha that is made using lavender syrup and real lavender flowers. It's smack in the heart of Savannah, has great ambience and all in all a perfect little spot for a cup of coffee and a quick meal.
23 Abercorn St, Savannah, GA 31401
Lastly, for dinner head to the Olde Pink House which was named for the light shade of pink stucco covering the bricks. The restaurant is located in an XVIII century mansion, one of the few buildings that survived the fire of 1796. Reservations are a must at this fine-dining spot featuring the best of low-country cuisine.
Yulia Dyukova | The Foodie Miles
---
Chicago, Illinois
196 East Pearson Street, Chicago/ 130 E. Randolph Street, Chicago
Favourite amongst locals for brunch – Wildberry Café offers mouth watering pancakes, Belgian waffles and crepes! The stylish diner also serves skillets, omelettes and speciality eggs Benedict. My favourite would have to be the Wild Mushroom Omelette, the Banana Pecan Belgian Waffle and Creamy Nutella Wild Pan Crepes! The portion size is incredible and it's best to go on the early side of brunch to avoid long queues!
700 East Grand Avenue, Chicago – Navy Pier
Specializing in seafood, Riva Crabhouse is an upmarket restaurant with views from the Navy Pier. The Seafood Feast consisting of Maine lobster, shrimp and king crab was my favourite – definitely worth the price! The White Chocolate Crème Brulee is the perfect dessert to compliment the Seafood Feast. The restaurant is two storeys; a late lunch on the upper storey, with a glass of wine is the perfect way to wind down with amazing views of the city and Lake Michigan.
661 West Walnut Street, Chicago
This unlikely 2 Michelin star restaurant is located in a warehouse, down an alley! Oriole offers a tasting menu (set menu with wine pairing), reservations are hard to get as the wait list is a long one since the restaurant seats about 25 people. If you really want an executive experience – make a reservation before your trip to Chicago to check their availability. The sommelier has already paired wines, cocktails as well as sake to accompany the menu.  The food is impeccable to the palate so I can't choose favourites.
130 East Randolph Street, Chicago – various locations.
If you're after Chicago's famous deep-dish pizza, Giordano's is a must try! Their pizzas are huge, and filling – stacked with toppings/fillings and cheese and cooked to perfection! Giordano's has been around since the 1970s in Chicago, bringing their authentic recipes from Italy. The Super-Veggie Deep Dish pizza is delicious; you really don't notice there's no meat. Their starter – Tomato Bruschetta is also my favourite!
Yeshi Sewdayal | Hello Yeshi
---
Boston, Massachusetts
160 Commonwealth Avenue, Boston, MA 02116, USA
As a big fan of southern cuisine and traveling in the south in general, before I ate at Buttermilk & Bourbon you would have been hard-pressed to convince me that Boston could make great southern food–but at Buttermilk & Bourbon, they sure can.
Every single thing we ordered at brunch, from chicken & waffles to a scotch egg, was utterly delicious–but nothing more so than the biscuits. Trust me on this: if you visit Buttermilk & Bourbon, you must get the biscuits.
119 Salem St, Boston, MA 02113, USA
Many restaurants in the North End (Boston's "Little Italy", though good luck finding a local that calls it that) are duds, but the North End is not one of those restaurants.
This is one of the best Italian restaurants we have dined at in the USA, and one of the only places outside of Italy we have had dinner that even begins to approximate what it's like to dine in the country.
We didn't have a single bad dish while we were there, but can heartily recommend the veal (specifically the vitello ai quattro formaggi) and the pappardelle panna e prosciutto.
45 Union St, Boston, MA 02108, USA
As the oldest tavern in the USA, Bell in Hand has been pouring ale since 1795.
While in some cases that might make a restaurant likely to lean on gimmick and mediocre food, Bell in Hand Tavern is not one of those places. The atmosphere is great (if packed during rush hour due to its location along the Freedom Trail), the food is solid, and the burgers are excellent.
Kate Storm | Our Escape Clause
---
Fairfield, Connecticut
Fairfield, Connecticut, just an hour outside of NYC, has a great food scene that continues to improve. Here are my 3 favorite spots:
The vibe in this place seems pretty hipster, yet when we went, there was a nice mix of families too. It is located in the Black Rock area, which has turned into a nice foodie area. This restaurant promotes itself as an American tapas place. They make their own sausages, burrata and their handcrafted cocktails are delicious.
The best dish to order was the pulled pork arepas with pickled relish. It came as an order of three, and it was perfect to share with others. The crispiness of the arepa at the bottom, paired with the pulled pork, and then complemented by the relish on top was simply amazing!
Although this is a chain restaurant, they do not skimp on quality. Their menu is extensive, and each item I tried was delicious! They clearly promote their burgers, bourbon, and beer. Plan B has a wide selection of craft beer and liquor too. If I had to choose my favorite menu item, it would definitely be their mini cheeseburgers with parmesan fries. It is technically an appetizer but is large enough as a meal for one person.
The best way to describe these burgers is succulent. They were so simple…nothing but bread, burger, and cheese, yet it had so much flavor packed inside. The parmesan fries were crispy and paired well with the 3 little burgers. I will be back to try more items in the near future and see if they can beat the mini cheeseburgers.
The Fairfield version of the famous 1925 New Haven Frank Pepe pizza makes my list because it is just as delicious as the original, and there is rarely a wait. Although I can only claim to have tried their cheese and pepperoni, I would have to say that simple is best. Their pizza has the perfect amount of chew and char. It was not too saucy nor cheesy either.
Simplicity is the name of the game here. The only items they serve are pizzas and salads. They also have Foxon Park sodas (which has been a family owned Connecticut business for over 80 years) to pair with their food. This is soon to become my favorite pizza joint!
Margie DQ | DQ Family Travel
---
Omaha, Nebraska
Not many people think of Omaha, Nebraska as a foodie's paradise, but when you get to the Big-O, you'd be shocked at our amazing food scene. But regardless of farmer's markets, farm to tables and local shops there is one thing that Omaha has long been known for – "Omaha Steaks" – and for good reason! Here is this born and raised Omahan's favorite steak houses in the heart of America.
Nearing 100 years old (96 to be exact), Johnny's is Omaha's oldest and probably favorite original, authentic steakhouse. No frills, just good meat!
Another legendary spot dating back to 1944, Gorat's is still a local favorite. Just name a cut of meat and they've got it, ready to be grilled to absolute perfection.
While the Drover is just an all around great "American" style restaurant (think burgers, soups, salads, etc) it is still their steak that keeps it an Omaha top pick.  In fact, it's their famous steaks that are marinated in whiskey that keeps locals coming back for more! Can you say YUM?
LeAnna Brown | Well Traveled Nebraskan
---
Chapel Hill, North Carolina
505c West Franklin Street, Chapel Hill, NC 27516
Top of the Hill is located in the heart of a college town, and is well known for its Trivia night (Wednesdays – 9pm) and DJ Nights (Thursdays and Saturdays – 11pm), as well as their drinks specials for those student budgets! My favourite is their Buttermilk Fried Chicken! This dish is generously served with creamy mushroom gravy, mashed potatoes and a buttermilk biscuit.
410 W Franklin St, Chapel Hill, NC, 27517
Mediterranean Deli and Bakery also includes a mini market providing fresh ingredients to the public. Their Panini Wraps and Gyros are popular amongst locals however; I thoroughly enjoy the Lamb Fatayer which consists of ground lamb with onions, tomatoes and spices in a boat-shaped piece of dough topped with feta and mozzarella! The Burma (wheat dough with honey and pistachios) are awesome too!
1009 S Columbia St, Chapel Hill, NC, 27514
Renowned for their BLTs, Merritt's doesn't disappoint with other All-American sandwiches too! Definitely give their BLTs a try as well as my favourite, the Cajun Chicken Sandwich with pimento cheese and avocado on sourdough! Merritt's has been around since 1929 and has a very laid-back vibe indoors and in their alfresco dining area.
504 W Franklin St, Chapel Hill, NC 27516
Mint offers Indian cuisine with many Punjabi dishes. The restaurant has a warm ambience and features Indian inspired décor. The food is sublime and I recommend the following dishes – Shrimp Tikka, Chicken Korma, Gobi Tawa Masala and Lamb Rogan Josh. These dishes are spiced well with fresh ingredients. A must try is their Mago Lassi (beverage). Another great thing about Mint, is Sunday brunch offering a variety of dishes – vegetarian and non-vegetarian accompanied by mimosas!
Yeshi Sewdayal | Hello Yeshi
---
Las Vegas, Nevada
3667 S Las Vegas Blvd, Las Vegas, NV 89109
The very first place we decided to go to, of course, was Gordon Ramsay Burger. I mean…it's Gordon Ramsay, you can't say no to the guy!  Just as expected, he didn't disappoint. While the burgers are a bit pricey (but that wasn't a surprise), we found them delicious. Once you get there, even if they are full, you can leave your name and your cellphone number, go for a walk to explore Las Vegas, and when your table is ready you'll get a nice text informing you that it's time to let Gordon fill your belly. Our favorite burger was the Hells' Kitchen Burger: hubby also appreciated their beer selection.
3600 S Las Vegas Blvd, Las Vegas, NV 89109
Another pricey option is Le Cirque, located inside the Bellagio Hotel and Casino. We decided to go there for my birthday, and fell in love with the place. If you don't know where to start and would like to eat a bit of everything, you can go for the dinner tasting menu. It felt almost like a sensorial experience, from the first course to the last one. While I'm not a great fan of wine, here it was amazing, because each glass was specifically combined with a great dish. An unforgettable experience!
5693 S Jones Blvd, Las Vegas, NV 89118
For your everyday foodie breakfast, you can head over to Mr. Mamas, a great family friendly diner where we had the best pancakes ever, at a tiny price. The place was very clean so we have returned often, to enjoy some more of their homemade American breakfast, served until 3pm...did I mention that their pancakes are amazing?
Danila Caputo | Travelling Dany
---
Sacramento, California
Sacramento is not only California's capital, it's full of great eateries, great coffee and craft beer. You'll find it's less expensive than San Francisco but still has a good art and music scene. It's a must-visit on any California roadtrip!
1310 S St (at 13th St), Sacramento, CA 95811
For giant deli sandwiches, this place is my all-time favourite in the state! Try the popular Hot Blonde (a chicken, avocado and swiss affair) or my favourite, Blue Collar Dream (stuffed with tri-tip!). They also have salads and yummy vegan options.
Get the fried chicken. This place is known for their fried chicken which people will queue out the door for. They offer a range of Southern fare from gumbo, jambalaya, po' boys and my favourite, the fried catfish.
This "cheese-centric" bar has artisanal cheeses for days and delicious wines and beers to match. Their menu of grilled cheeses and mac 'n cheeses are all amazing but you can't go wrong with Not Your Mom's Mac with added pancetta!
5913 Broadway, Sacramento, CA 95820
I had to add this one because they do great coffee and I'm addicted to their breakfast burrito which is a must-have breakfast when you're in the Golden State. I highly recommend checking them out for brunch, they also have a grilled cheese benedict!
Sara Marshall | BeyondCruise
---
New York, New York
3307 Ditmars Blvd, Astoria, Queens, 11105
Some of the best Greek food in NYC. I go here every time my family is in town. There is usually a wait, but it goes fast and this place is so worth it. On longer waits, they'll give you a glass of wine for free.
What to order: Peasant Salad, Fried Whiting, and Greek Dips Platter
417 Prospect Pl, Brooklyn, NY, 11238
I've been here a couple times with friends after a sweaty day in Prospect Park. It's quick, it's cheap and dayumm it is good.
What to order: Grilled Chicken Burrito
3618 30th Avenue, Astoria, Queens, NY 11103
Go during brunch. Eggs benedict is a NYC staple for brunch and these guys do all types. They have homemade donuts that are off the hook. The food will make you feel like you're about to have a heart attack and die happy; the ultimate in comfort food.
What to order: Anything with Eggs Benedict
28 Bowery (at Bayard St.), New York, NY 10013
These guys are no frills: cash only. It's a cheap, delicious soiree into some seriously delicious Chinese food in the heart of Chinatown. I go here every time I'm downtown because I can't help myself.
What to order: Pork Noodle Soup
Natalie Allen | A Pair of Travel Pants
---
Durango, Colorado
With the most restaurants per capita, Durango, Colorado is a magical location for any foodie adventurer. This small, historical town situated in the southwest corner of the state features everything that is loved by Colorado travelers: mountains, rivers, breweries, craft cocktails, and restaurants with only the best of local and sustainable ingredients. When visiting Durango, Colorado, make sure to visit the following restaurants:
726 ½ Main Ave, Durango CO
For a more casual affair, Grassburger offers the healthiest and tastiest burgers in town. Expect ingredients that are locally sourced, a menu with details transparent to every consumer, and an environment that's as warm as their sweet potato fries.
What to order: Chedda' Burger with Avocado and a side of sweet potato fries
147 East College Drive, Durango CO
Step back into the past at The Ore House, the oldest restaurant in Durango.  The Ore House is a steak and seafood restaurant whose walls and décor still jive to the ragtime beat of its past while its menu integrates modern day trends like craft cocktails and eco-friendly plates.
What to order: New York Strip Dry Aged with a side of lobster tail accompanied by the craft cocktail, Up In Smoke.
725 East Second Ave, Durango CO
Mediterranean inspired plates with two of Colorado's favorites: farm to table ingredients and artisan cocktails.
What to order: Combo Meze. A taste of all things Mediterranean (hummus, baba ganoush, olives, feta cheese, warm pita bread, tzajiki, and spanakopita)
Jennifer Kanikula | The SoFull Traveler
---
Raleigh, North Carolina
Raleigh is a foodie's heaven! One of my favorite things about downtown Raleigh, where I live, is everything is within walking distance. And you won't find any chain restaurants here! Only top chefs doing amazing things with food who source both local and incredibly fresh ingredients they pair in delicious ways.
One of the most well known chefs in the area is Ashley Christensen, winner of a James Beard Award. She has a few restaurants downtown but my favorite is Beasley's Chicken + Honey. This casual eatery has an industrial vibe, awesome bar and great southern options. Go for the macaroni and cheese casserole or grit fries – stay for the Moscow Mules! (The best I've ever had! They make their own ginger beer syrup!)
I am a huge fan of the poke bowl craze sweeping the nation and Raleigh Raw is another favorite. They are big on sustainability and I love that most things they use there are compostable (even their "plastic" cups) and they're big on natural, unprocessed food. My favorite dish is their poke bowl called Faroe Monch, that I opt for on a bed of sushi rice with yellowtail. It's a great place to do work on a laptop for a little while and also to get fresh pressed juices.
If you're craving something sweet you must go to LucetteGrace! Chef Daniel's pastries rival any I've had in Paris. Everything is made fresh daily and are very photo-worthy! My personal favorite is their savory biscuit, "Dixie Cannonball" with a surprise burst of warm gravy in the center. But whether you're in the mood for a homemade croissant, lemon meringue tart, or simply a French macaron you should definitely stop in for a look at what's in their seasonal rotation and treat yourself!
Mikkel | Sometimes Home
---
Charlotte, North Carolina
Charlotte has an array of establishments to cater to whatever your foodie interests are. You can find everything from BBQ and burgers to Italian and Vietnamese to pizza joints and food trucks. What if you have dietary restrictions? Glad you asked! More and more restaurants in Charlotte are offering options for patrons with various dietary needs.
Here are some of my favorite places:
1626 East Blvd. Charlotte, NC 28203
Charlotte has a great selection of burger joints. One of my favorites has a plethora of fancy burgers such as the Sam I Am Burger, which includes an over easy egg, rosemary ham, and American cheese. Bad Daddy's Burger Bar has twenty locations throughout the Carolinas. There is also a location in Colorado. The original location is in the trendy Dilworth neighborhood.
If you have dietary restrictions, be sure to ask for their gluten-free menu. This menu has a variety of options including starters and salads. You can create your own burger to meet your dietary needs. Bad Daddy's offers gluten-free buns; let's be real, some gluten-free buns are gross. Not these. They have really yummy buns.
1401 Central Ave. Charlotte, NC 28205
BBQ is serious business in the South (yes, I know it is in the Midwest as well). Depending on where you're from in the Carolinas, you might prefer a tomato, vinegar, or mustard base. While you have several BBQ options in Charlotte, Midwood Smokehouse is my favorite. There are four locations in North Carolina and one in South Carolina. The original location
is in the popular Plaza-Midwood area of Charlotte.
You may not think that BBQ is good for people with dietary restrictions, however Midwood Smokehouse does have options. While they don't have a separate menu, your waiter can tell you what is gluten-free and even soy-free options. If you can't have soy, please note that soybean oil is used in the fryer and for the ribs.
One of the unique dishes on Midwood Smokehouse's menu is Burnt Ends. It's cooked in a Cheerwine sauce. If you're not familiar, Cheerwine is a popular soft drink that started in North Carolina. The salad with cucumbers makes a good side.
Fun fact: President Obama and Hilary Clinton have both visited the original location of Midwood Smokehouse when the latter was here campaigning in 2016. Luke Bryan was in town recently and had a crew member come pick up a huge order for the singer and his crew.
1801 Scott Ave. Charlotte, NC 28203
Who doesn't love pizza? Pizza has always been one of my favorite foods. While delivery pizza can be good, restaurant style pizza is even better. If you have dietary restrictions, you may think you're limited to what you can find in the freezer aisle or pizza that you make yourself.
More and more pizza places are offering gluten-free crust. Some even go far enough to offer dairy-free cheese too. Some of the restaurants offer a thin crust. Brixx Pizza has a very thick crust and it's delicious! Pepperoni and cheese may be the regular old standby, but Brixx's is very good. All of Brixx's pizza are wood fired.
Note: There is a $3 upcharge for a gluten-free crust. However, if you download the Brixx Pizza app, they occasionally have coupons that waives the fee.
Brixx Pizza started in Charlotte and now has 30 locations across the Southeast.
1500 W Morehead St. Charlotte, NC 28208
As I previously mentioned, there are a lot of burger joints in Charlotte. The Burger Company has options like the Pretzel Burger and the Rise 'N Shine Burger. However, they also have a really good chicken sandwich. They also have a good gluten-free bun. Another bonus is the delicious tater tots, which are not cooked in soy.
There are seven locations, mostly in Charlotte. You can find locations in Greenville, SC and Smithtown, NY. For some unknown reason (it's not on their website), the other locations are called American Burger Company. One of the things that make these restaurants are so cool is that they are green. The countertops are made from recycled flooring and the flooring is made of bamboo. They even recycle their frying oil into biodiesel fuel.
Samantha Schipman | Gluten-Free Spirited
---
Bonus addition!
Oahu, Hawaii
933 Kapahulu Ave, Honolulu, HI 96816
Leonard's Bakery is an institution in Oahu and people flock from around the globe to wait in long lines for their Portuguese malasadas that come out piping hot with options for fillings like custard and guava AND you can get them coated in sugar and/or cinnamon! If this is the only place you stop on the island – it will be worth your time!
66-472 Kamehameha Hwy, Haleiwa, HI 96712
There are many people trying to replicate Giovanni's (even by name) but there is only one! Bring your hand wipes and sanitizer because this buttery garlic shrimp is as messy as it is delicious (and there are no washing facilities in the immediate area). This is food truck dining at its best.
64-1550 Kamehameha Hwy, Wahiawa, HI 96786
The Dole Plantation is where pineapples and other fruits are grown. It is free to enter (some activities cost money) but the real reason to go there is for their coveted dole whip!
675 Auahi St Honolulu, HI 96813
Calling all Instagrammers! For the perfect palm tree coated cappuccino and avocado toast, look no further.
2233 Kalakaua Ave, Honolulu, HI 96815
Easily one of the best cold treats in Hawaii. You can pick all your own toppings (and the options are plentiful) or pick a shave ice that has already been curated with delicious flavors.
Nicole Sunderland | Eat Live Travel Drink
---
Thanks again to all the food lovers who contributed their favorites to this USA foodie bucket list!
READ MORE:
What are some of your favorite foodie cities in the United States? Have you ever taken a trip somewhere just to eat the local food? Tell us in the comments!
Like this post? Please pin it!