Get ready to experience the best of Amsterdam with this epic Amsterdam bucket list! Here are 26 things you shouldn't miss when visiting the beautiful capital city of the Netherlands.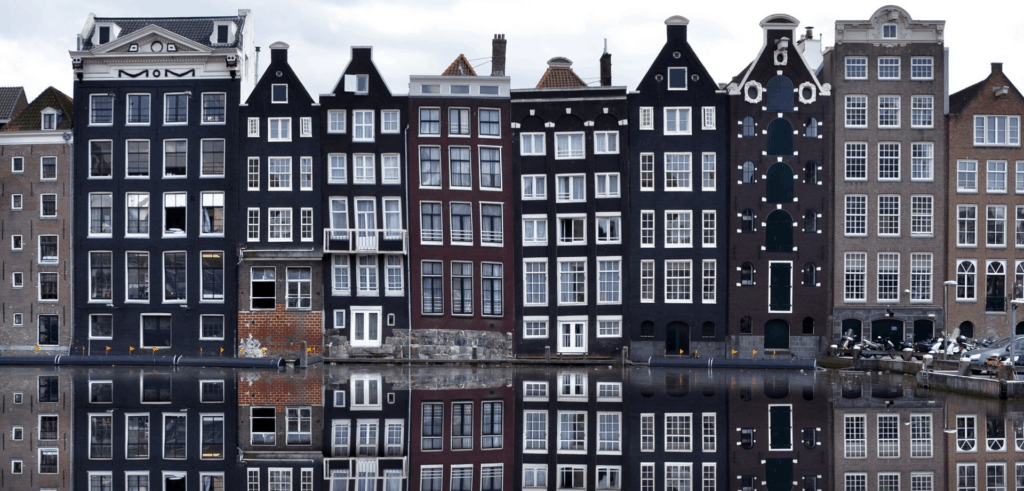 While Amsterdam is a bustling European hub year-round, the volume of tourists tends to drop significantly during the colder months when people are traveling less. And this, my friends, is the perfect time for you to swoop in and soak up all the cozy corners of this stunning city!
Many people travel to the Netherlands during the spring for tulip season (and rightfully so!) but there is something to be said for winter travel. Bundling up and strolling around Amsterdam's canals, exploring its many museums, and tasting the Dutch food and drink scene without having to elbow your way in and out of popular destinations is absolutely glorious.
Here are some items you should add to your Amsterdam bucket list if you're looking for things to do in Amsterdam in the winter (or any season). Ready to explore this beautiful city? Let's dive in!

Editor's note: I amsterdam kindly provided me with an I amsterdam City Card during my recent trip to Amsterdam, making transportation, museum visits and exploring a total breeze! I highly recommend getting one for your trip. As always, all opinions, undying love for Amsterdam, and apple pie glamour shots are entirely my own.
---
The somewhat-hidden Rijksmuseum Library is well worth the hunt.
Visit the stunning Rijksmuseum
With almost 2 million visitors a year, the Rijksmuseum is undoubtedly one of the top attractions in Amsterdam. Housed in a magnificent UNESCO heritage building with arched tunnels that allow pedestrians and cyclists the unique opportunity to pass underneath it into Museumplein, it is an attraction that easily earns a top spot on our Amsterdam bucket list.
Inside the Rijksmuseum you'll find 1.5km of galleries housing incredible collections of Rembrandt, Van Gogh, Vermeer and countless other Dutch greats. Starting on the 2nd floor you'll be taken 800 years back in time, moving closer to the present as you descend through the levels.
The museum owns more than 1 million pieces of artwork but can only display around 8000 objects at a time, so the exhibits are constantly being rotated. However, the most famous paintings, like Vermeer's The Milkmaid, Rembrandt's Night Watch, and Van Gogh's self portrait are on permanent display – so don't worry about missing them.
Along with paintings, the museum also houses some amazing statues and historical objects, such as jewels, costumes, weapons, model ships, furniture and Asiatic art.
More details:
Rijksmuseum:

Museumstraat 1, 1071 XX Amsterdam, Netherlands

Hours: Open from 9am to 5pm, 365 days a year
Tickets: € 17.50 (adults), € 8.75 (CJP or EYCA card holders), FREE (children aged 18 or under, I amsterdam City Card and Museumkaart holders, and Friends of the Rijksmuseum
Pro tips:
Be sure to track down the Rijksmuseum Library for a magical experience – it feels almost like stepping into the world of Harry Potter
Before you go, download the Rijksmuseum app (available for Apple and Android) to access free, self-guided tours
Tickets can be purchased at the ticket counter inside the museum or online
Get there before 10am or after 3pm to avoid the crowds
Jeanne | Learning To Breathe Abroad
---
The view from the top of this secret church is absolutely stunning! Photo: Sierra Dehmler
Visit the most unique museum in Amsterdam
Our Lord in the Attic Museum (Museum Ons' Lieve Heer op Solder) is one of the oldest and most unique museums in Amsterdam. It began as a Catholic church located within a canal house. When it became illegal in the Netherlands to hold mass, its secretive location was an advantage because authorities turned a blind eye to the Catholic worship within.
One of the coolest things about the museum is that there are so many different rooms to explore, from living rooms, to the kitchen, and finally the entire church in the attic. The rooms also depict the life inside a canal house of the 17th century Dutch Golden Age with original furnishings and decor.
The best part of the museum is definitely the church! It takes up the entire top floor with a large room of pews, the pulpit, and the confessionals. When you first arrive onto the church floor, the main room is amazing, especially if you've seen the stripped down Dutch Protestant churches. The decor in the church is much more typical of the Catholic style, with golden finishes and beautiful details in the pulpit.
Our Lord in the Attic Museum is super easy to get to, it's located smack dab in the middle of the tourist area of Amsterdam, along one of the main canals on Oudezijds Voorburgwal. It is also within walking distance of Amsterdam Centraal, it's only a 6 minute walk! Tickets can be purchased online in advance and include an audio guide. You can also purchase tickets when you arrive. Since it's a museum, you can pretty much go anytime but it would make a great spot to visit on those rainy, chilly, gray Dutch winter days.
More details:
Our Lord in the Attic Museum: Oudezijds Voorburgwal 40, 1012 GE, Amsterdam
Hours: Open Monday-Saturday from 10am-6pm, Sunday from 1pm-6pm, closed on Kingsday
Constance | The Adventures of Panda Bear
---
A warm stroopwafel on a chilly day is the perfect treat.
Poffertjes – delectable tiny pancakes with butter and sugar on top.
Try these delicious Dutch treats
Got a sweet tooth? Amsterdam is full of delicious desserts that will satisfy your cravings. Here are three traditional Dutch must-tries to add to your Amsterdam bucket list.
The first is the seriously scrumptious Dutch appeltaart, which is really more of a cake than a pie or tart, and is uniquely flavored with a traditional Dutch spice mix called Speculaaskruiden (which includes flavors like cinnamon, clove, ginger, cardamom, anise, and more).
You can find appeltaart in cafes all over the city but Winkel 43 (Noordermarkt 43) is a popular choice. Don't be put off by a line that goes out the door and down the street; it moves quickly. Do add a mug of hot fresh mint tea to your order; it's the perfect complement to the sweet appeltaart.
Another Amsterdam must-try is Dutch pannenkoeken (pancakes). You'll find both sweet and savory pancakes (including gluten-free options) and a wide range of toppings at the Pancake Bakery (Prinsengracht 191 near the Anne Frank House) and Pancakes Amsterdam (Berenstraat 38). Don't forget to try Dutch Stroop syrup on your pancakes!
Speaking of Stroop…the third Amsterdam must-try sweet is a fresh Stroopwafel. Sure, you can pick up a package of Stroopwafel at any store in Amsterdam, but a hot, fresh Stroopwafel from the Original Stroopwafel stall at the the Albert Cuyp street market is so much better. Warning: you won't be able to eat just one!
Winkel 43:

Noordermarkt 43, 1015 NA Amsterdam, Netherlands

Pancake Bakery:

Prinsengracht 191, 1015 DS Amsterdam, Netherlands

Original Stroopwafel:

Albert Cuyp Straat t/o 182, Stand 134, 1073 BL Amsterdam, Netherlands
Cate Brubaker | International Desserts Blog
---
Amsterdam's canals are lined with bikes and houseboats! Photo: Sierra Dehmler
Experience the tiny Houseboat Museum
A unique feature of Amsterdam (and one that visitors often comment on) is the houseboats. Many canals in the center of the city are lined with either new houseboats, which look rather like tiny houses plunked down on barges, or older, vintage houseboats. These are usually about a century old and started life transporting cargo, with a small area at the stern (the back) for the captain and his family to live in. Later, capping their holds allowed a larger living space when they were no longer useful for cargo.
The Houseboat Museum allows visitors to get a sense of the inside of these converted cargo boats. Entering at the stern, visitors first get a sense of the claustrophobically small space that cargo boat families lived in. A tiny room served as kitchen and living room, while two beds in cupboards provided sleeping space for the whole family.
In comparison, the converted living area further forward seems roomy, but still cozy. Signs provide information about the history of this particular boat and about houseboats in general. Nowadays, they and their mooring permits are coveted and valuable in pricey Amsterdam.
More details:
The Houseboat Museum:

Prinsengracht 296K, 1016 HW Amsterdam, Netherlands (near the Berensluis bridge, at the end of Elandsgracht)

Hours: Open Tuesday-Sunday from 10am-5pm, with the addition of Mondays in July and August
Note: The museum is closed for most of January, so double-check hours before you visit
Admission: €4.50
Pro tip: No need to buy tickets in advance, but go early or late to avoid crowds in the summer especially
Rachel Heller | Rachel's Ruminations
---
Friendly shopkeepers sell their goods at Albert Cuyp Market weekly. Photo: Franklin Heijnen
Eat your way through the Albert Cuyp Market
The Albert Cuyp Market is located in Amsterdam's hip neighborhood of De Pijp, an area you shouldn't miss when visiting the capital of the Netherlands. This particular street market has been opened for more than 100 year, and is named after a leading Dutch painter.
The eclectic market has a vast offering, with stalls selling everything from souvenirs to clothes, supplies for the home, and much more, including flowers (of course)! It is a great place to get some keepsakes from your time in Amsterdam, as prices are generally lower than the ones you find in most souvenir shops near the main attractions. Nevertheless, the best part of the market is the food!
Besides the fruit and fish stalls, there is plenty of delicious street food from the four corners of the world. Unsurprisingly, there are also many local staples available, including an endless array of cheeses, bitterballen, and warm stroopwafels.
The Albert Cuyp Market is located at the Albert Cuypstraat. The best time to visit is around lunch time, so that you can really enjoy the street food scene. To get to the De Pijp neighborhood, either walk from the city center or take a tram.
More details:
Albert Cuyp Market:

Albert Cuypstraat, 1073 BD Amsterdam, Netherlands

Hours: Open Monday-Saturday from 9am-5pm, closed Sunday
Pro tip: the market is sometimes closed early due to weather conditions, so double-check before you go
Book your foodie adventure through Amsterdam here:
Maria & Rui | Two Find A Way
---
A canal cruise is the perfect way to see Amsterdam. Photo: Hues of Delahaye
Take a boat cruise through the canals
A canal boat cruise is the perfect activity to do during the winter in Amsterdam, as the boats are heated warmly. To fully appreciate the beauty and significance of one of the city's major attractions, you must take a canal boat cruise tour of Amsterdam — day or night both offer incredible experiences.
During the day, a canal cruise along Amsterdam's UNESCO-protected canal belt showcases the quintessential picture-postcard images of the famous capital of the Netherlands. At night, cruises float along the canal underneath bridges lit up by fairy lights, giving the experience a magical feel. This is one of the most romantic things you can do in Amsterdam and something you will not forget.
A canal boat cruise in Amsterdam will not only show you the city's beauty and architectural highlights, but you'll learn some fascinating facts about the city. As you float along the canals on your guided boat tour, you'll learn facts like why the tilting homes along the canals are known as 'dancing houses', pass along Amsterdam's famous attractions like the Anne Frank House, Rijksmuseum, Albert Cuyp market and Gassan Diamonds.
There are a plethora of tours to choose from, ranging from flexible hop-on-hop-off sightseeing tours to romantic candlelit night time cruises with food and wine.
Cruises operate year-round and boats depart from multiple locations throughout the city every 20 to 30 minutes.
Delahaye | Hues of Delahaye
Choose and book your canal cruise here:
---
You never know what you'll find inside these hofjes! Photo: Tom Weeland
All around Amsterdam, you'll find historic courtyards full of secrets! One of my favorite things to do is enjoy these former almshouses (known as hofjes in Dutch). Not all are open to the public, however some, including the Begijnhof are generally open to the public as long as they are well behaved. This is one of the oldest hofjes in Amsterdam, which was the location of two churches and houses for those associated with the church.
Today, it's possible to visit this hofje for free during daytime hours although be warned: You cannot walk on the grass or go further than the gates as these homes are still inhabited! There are many more hofjes around Amsterdam, however many others have restrictive hours as well as more rules, which makes many of them fairly unfriendly to tourists as you must know the opening hours of each individual hofje.
That said, you might come across a door with a "hof" letting on top and you have no idea what you'll find behind the door. Just be warned that silence is important as the owners choose to allow the public inside and increasingly, more residents of hofjes are shutting their doors to the public.
Karen | Wanderlustingk
---
Brave enough to try biking in Amsterdam? Read our tips first!
Go cycling in Amsterdam like a local
Amsterdam is the known as being the most bicycle-friendly city in the world! If the weather is nice enough when you are visiting Amsterdam, you have to try this exciting activity. It is a typical Dutch method of getting around. Over 60% of the Dutch commute around the city using bicycles!
Bike tours are very popular in Amsterdam. There are many different options when it comes to bike rentals and tours, including visitor favorites A-Bike Dam Square and Mike's Bikes (which, for example, is €7 for up to 4 hours or €10 for a full-day rental).
One popular route to take by bike is to the A'DAM Lookout and back. With that route, you can explore the streets of Amsterdam and cross the canal on a barge which takes you to the opposite bank and back.
Before you want to do this, you have to check if the bike shop provides you locks for your bicycle. Because you have to park your bike somewhere and go up the A'DAM Lookout. And you can only park bicycles at designated lots or they will be removed by the authorities.
Bicycling in Amsterdam is not for the faint of heart – be sure to read these safety tips for biking in Amsterdam before attempting any biking adventures of your own!
Do avoid cycling during their rush hour, which is around 8am – 9am and 5pm to 6pm, as there are hundreds of bikes on the road. It will probably spoil the fun of cycling in Amsterdam (for you and the locals trying to commute). Cycle during more "off-peak" hours to enjoy the serenity of cycling along the canals.
Bicycling through Amsterdam is an incredible experience to check off your Amsterdam bucket list!
More details:
A-Bike Dam Square:

Rokin 105A, 1012 KM Amsterdam, Netherlands

Mike's Bikes:

Prins Hendrikkade 176, 1011 TC Amsterdam, Netherlands

Pro tip: Be respectful and cautious if you choose to go biking as a visitor – read up on rules and etiquette; cycle during non-rush hour periods
Donovan | Money-Saving Daddy
---
Amsterdam's famous Bitterballen are a must-try for any visitor.
Eat your heart out at De Foodhallen
De Foodhallen is the Amsterdam staple for all things food. Making the most of the industrial chic décor, this former tram stop is now a food haven with stalls lining every wall. It's as popular with the locals as it is with tourists, which says something for just how awesome this place actually is.
Situated a little further away from the main Amsterdam tourist centre in Bellamyplein, De Foodhallen is easily accessible on foot or by tram – about 20 mins walk from Leidsplein and 10 mins on the tram and it is so well worth the trip out there. Local Amsterdam treats like Bitterballen are available, but so are a number of other foods from around the world including mouth-watering tacos, melt in your mouth silky dumplings, crunchy and fresh fish and chips and delectable French pastries. And guess what? They're all good.
The best way to experience De Foodhallen is to sample as many things as possible. Opt for the smallest serving size, so that you can try a few dishes and do not forget to leave room for dessert! Wash your food down with a beer or a wine and enjoy the throngs of people all raucously celebrating a night of food and fun. A must for any foodie's Amsterdam bucket list!
More details:
De Foodhallen:

Bellamyplein 51

,

1053 AT Amsterdam,

The Netherlands

Hours: Open 11:30am-11pm from Sunday-Thursday, 11:30am-1am Friday-Saturday
Pro tip: Split dishes with a travel buddy so you can taste test lots of different items
Emma | Emma Jane Explores
---
Photo: Kenneth Garcia
Wander through the Nine Streets neighborhood
A must-see area on your visit to Amsterdam is the Nine Streets. Known to locals as De Negen Straatjes, this pretty little neighborhood criss-crosses over some of the city's finest canals.
Herengracht, Keizersgracht, and Prinsengracht are the three main canals which split the Central Canal district into these nine highly photogenic and wander-worthy streets. The area is growing all the time but the original Nine Streets form the hub.
The area is packed with vintage boutiques, designer shops and cool concept stores. It's also a favorite spot for locals. You'll find every kind of boutique shop selling everything from clothing and shoes to eye wear. Dutch fashion brand Scotch and Soda is there along with top designer brands and smaller local names.
There are quirky independent stores selling souvenirs, collectibles, antiques, vinyl and some contemporary galleries. There's even a cheese shop. Tucked between the boutiques and stores are chic cafes, bars and restaurants. These line the leafy canals and are the perfect spot to linger over lunch or while away a few hours in the afternoon sunshine.
The area is perfect for getting away from the sightseeing crowds, shopping some local gems and enjoying the pretty surroundings. The Nine Streets are within easy walking distance of Dam Square on the western quarter of the Canal District.
More details:
The Nine Streets neighborhood is comprised of the area around these three main canals: Herengracht, Keizersgracht, and Prinsengracht
Lots of trendy, cute shops and restaurants are located here
Perfect place to wander in any season to get a glimpse of central Amsterdam's charm
Suzanne Jones | The Travelbunny
---
Cheese, glorious cheese!
Visit Edam, heaven for cheese lovers
Edam is a thirty-minute bus ride from Amsterdam, but if you want to have a truly cheesy experience, then this is the place to go! A must-add for any cheese-lover's Amsterdam bucket list.
Edam is the place to go for the Cheese Festival that has been taking place here since the Golden Age. Edam Cheese is the Best Cheese in the Netherlands, and I know my cheeses!
Be sure you stop by the Cheese Museum, this is an extremely unique museum as it has a floating cellar used to store cheese, that dates all the way back to the eight century.
The town itself is full to the brim with quaint boutique shops, a shipbuilding history (to export the cheeses), a beautiful little church, a cheese market, and some of the best pie around.
Seeking out these unique experiences in the smaller towns just outside of Amsterdam is truly where you get to feel the heartbeat of the Dutch people and get introduced to the true Netherlands experience.
More details:
Edam is just a 30-minute bus ride from Amsterdam
Visit during the Cheese Festival for maximum cheesiness
Janiel Green | Culture Trekking
---
Though somber, a visit to Anne Frank House is an important one.
Honor history at the Anne Frank House
One of the must dos on a visit to Amsterdam is a visit to the Anne Frank House. Anne Frank House is a museum that's run in the actual home that Anne Frank was hiding in during World War II where she wrote in her diary that would later become the incredibly well read "The Diary of a Young Girl."
Anne Frank House is located at Prinsengracht 263-267, 1016 GV Amsterdam and while it can be easy to pass by if one isn't aware of what the house looks like, the giant line outside will easily give it away.
It's highly recommended to purchase tickets ahead of time, as they more often than not sell out. Tickets are only available online and can't be purchased in the museum at all. Tickets are released online 2 months ahead of time for specific dates with timed entries which needs to be kept in mind when planning an itinerary. The official website for tickets can be found here.
Given the important historical factor of this museum and its sensitive subject matter, it should be noted that there is no photography allowed inside of the museum. Also be aware that the museum is not accessible. Parts of the apartment include staircases that may be difficult to climb for people with limited mobility.
Visiting the Anne Frank House is a somber experience and one that can leave you quite emotional, but it's an important part of a visit to Amsterdam and one that you should absolutely not skip.
More details:
Anne Frank House: Prinsengracht 263-267, 1016 GV Amsterdam, Netherlands
Hours: Open 9am-7pm from Sunday-Friday, 9am-10pm Saturday
Pro tip: Buying a ticket online in advance means you get to skip the crazy long lines – so don't forget!
Admission: € 10 (adults), € 5 (children age 10-17), FREE (age 9 and under)
Liliane Fawzy | My Toronto, My World
---
I mean, just look at that beauty! Photo: Sierra Dehmler
Taste the famous apple pie at Winkel 43
The best Dutch apple pie in Amsterdam (some would argue – best in the world!) is certainly an important bucket list item to check off – for food lovers in particular. At Winkel 43, a spiced, tender and sweet apple pie with a perfectly crispy crust is served on a daily basis. It's even better when ordered with whipped cream.
Winkel 43 is an excellent stop to refill your energy between attractions in Amsterdam. This sweet cafe (pun intended) serves an incredible hot chocolate too. However, Winkel 43 is a victim of its own success, so long lines are common. Unfortunately, they don't accept reservations. Nevertheless, the pie is worth the wait!
More details:
Winkel 43: Noordermarket 43, 1015 NA
Hours: Open 7am-1am (Monday), 8am-1am (Tuesday-Thursday), 8am-3am (Friday), 7am-3am (Saturday), 10am-1am (Sunday)
What to order: the delectable Dutch apple pie, and a creamy hot chocolate to warm up on chilly days
Bruna | Maps 'N Bags
---
In the mood for a cold brew? Arendsnest has you covered.
Grab a cold brew at a beer cafe
A couple of canals away from Winkel 43 is the probably best beer cafe in Amsterdam, the Arendsnest.
Arendsnest cafe specializes in serving only Dutch alcohol. Gin, cider, liquor, craft beer (no Heineken here!) and more. All of them made in the Netherlands. The staff is friendly and happy to help the customers choose their beer of which over 50 are on tap. Beers are served nice and cold.
Every Monday at 6PM, Arendsnest holds a Dutch beer tasting with some bites which requires a reservation. For the foodies, they offer delicious snacks, such as sausage and cheese (after all, this is the Netherlands).
Arendsnest:

Herengracht 90, 1015 BS Amsterdam, Netherlands

Hours: Open 12pm-12am from Sunday-Thursday, 12pm-2am Friday-Saturday
Bruna | Maps 'N Bags
---
See the famous Dutch windmills in Zaanse Schans.
Take in the historic windmills of Zaanse Schans
Take the #391 bus from the Amsterdam Centraal Station and time travel to the 16th century European countryside where endless green fields, old windmills and colorful wooden houses still exist on the side of the Zaans River. This is Zaanse Schans – an anchor point of the European route of Industrial Heritage and a place that can never fail to impress.
The golden period of Zaanse Schans was in 16th and 17th century when it became the world leader in production owing to advanced technology, windmills and the trade route through the Zaans river.
The Zaanse Schans museum takes visitors on a virtual tour of life in in the countryside over centuries, explains how the windmills came into being and became an integral part of the "Zaans identity." With a large collection of artifacts, original paintings, and audio-visual exhibitions of windmill technology, the Zaanse Schans Museum is well worth your visit.
However, even if you skip the museum, the landscape and natural beauty of Zaanse Schans is enough to keep you busy throughout the day.
Other activities include a tour inside the windmill factory, enjoying the panoramic views from the roofs of the windmills, boating on the river and simply taking a leisurely walk in the beautiful countryside amongst the birds and cattle. Just 30 minutes away from the city, this is a must-visit destination even in a short 3-day Amsterdam itinerary.
More details:
Only 30 minutes outside central Amsterdam, Zaanse Schans is the perfect easy day trip
The perfect place to see famous Dutch windmills and learn about their history
Book a tour or day trip to Zaanse Schans here:
Sinjana Ghosh | Backpack & Explore
---
Photo: J. Griffin Stewart
Learn about the history of beer at The Heineken Experience
The Heineken Experience is something that every beer lover should do in Amsterdam. It's a bit gimmicky at points, but is a really interesting way to learn about the Heineken story and definitely worth doing once.
The experience takes visitors through how Heineken beer is made, the history of Heineken, and offers many opportunities to get souvenirs along the way – photo booth photos, custom printed beer bottles, and more. It's completely self-guided so can be done at your own pace, but be sure to leave enough time to enjoy some beer at the bar after (or get in line to learn how to pour the perfect pint).
Heineken Experience tickets can be bought online in advance or in person; however, the line can be quite long, so it's recommended to buy them in advance. The tickets are timed and cost €18 per person. The ticket includes the whole Heineken Experience and two beer tokens, which can be redeemed in the bar at the end.
Heineken is located near the Albert Cuyp market, which is the perfect place to grab a bite to eat after finishing the tour.
More details:
Heineken Experience:

Stadhouderskade 78, 1072 AE Amsterdam, Netherlands

Admission: €18 per person (tickets are timed, includes two beer tokens)
A must for beer and history lovers
Book your Heineken Experience tour here (with or without canal cruise!)
Kelly | A Pair of Passports
---
Photo: Manon van Schagen
Explore peaceful

Prinseneiland
When some people think of Amsterdam all that comes to mind are dreamy houses, a lot of tourists and the Red Light District. The dreamy houses are definitely a part of Amsterdam.
But as soon as one would venture outside the main center, they will find calm areas in a bustling city. This is the case for Prinseneiland.
This small area of Amsterdam is an enclave for friendly cats, people, and artists. It has gorgeous, renovated warehouses and is known for being one of the three islands of Amsterdam. Prinseneiland is a quiet world in a busy city.
This beautiful island has renovated warehouses where people live in and beautiful houseboats. The most spectacular part of the island are the warehouses from the 17th century. These houses have gorgeous, red shuttered windows.
But as people walk through this small part of Amsterdam, there's one thing they notice. There are barely any tourists that discover this peaceful area.
As soon the sun starts shining, people sit outside and the artists open their galleries. This area is small, but a dream to visit.
Getting to Prinseneiland isn't that difficult. It's a nineteen-minute walk from Amsterdam Centraal train station. It is possible to take public transport; however, this won't be faster and will also take around 20 minutes.
More details:
An easy 19-minute walk from Amsterdam Centraal station
Beautiful getaway spot from touristy areas of Amsterdam
Perfect for artists and cat lovers
Manon | Visiting The Dutch Countryside
---
Seeing the tulip fields is a must for any Amsterdam bucket list!
Check out the world-famous Keukenhof Garden
Okay, so this one isn't a winter activity, but if you travel to Amsterdam during springtime, there's no doubt that visiting a tulip garden is one of the things you should do! Tulips are one of main symbols of Holland, and visiting a garden full of tulips is not only a pleasure for the senses, but it's also an important part of learning about the country's cultural identity.
If you stay in Amsterdam, and you don't have time to travel around the countryside, the best thing to do is a short a trip to Keukenhof Garden in Lisse, a small town close to Amsterdam. The tulip season starts in the second half of March and ends more or less at the end of May; therefore, that's when Keukenhof Garden is open to the public.
In an area of more than 30 hectares around 7 million tulip bulbs are planted in this huge garden, and you will get to see around 800 different kids of tulips of all sorts of colors. When you visit Keukenhof, you will be offered a complete experience, since you can also check out a traditional Dutch windmill, and if you feel like, you can rent a bike and ride around the large tulips fields in the area.
It's a very easy to get to Keukenhof Garden from Amsterdam. You can take a train from Amsterdam Central Station to Amsterdam Airport, and then you need to hop on Bus 858 that leaves you at the garden entrance.
More details:
Take the train from Amsterdam Centraal station to Amsterdam Airport, then catch Bus 858 which arrives right at Keukenhof Garden
Lisse is a perfect short day trip from Amsterdam
Gábor Kovács | Surfing the Planet
---
Photo: Kavey Eats
Try traditional Dutch herring
North Sea herring has been part of the Dutch diet for centuries and maatjes are still a popular snack around Amsterdam. The name doesn't mean herring, though – it's a corruption of the Dutch word for a virgin, and refers to the belief that the best herring is caught after the fish have fed well but before they've had a chance to reproduce. These days, freezer storage means that new season herring is available all year round.
Many guides describe maatjes as raw herring but the fish is actually very lightly cured in brine or pickling liquid. The soused fish is chopped into large chunks and served with pickled gherkins and diced raw onion. Ask for broodje if you want the herring and garnishes stuffed into a soft bread roll.
To try the best maatjes I recommend the Vlaardingse Haringhandel stall at Albert Cuyp Market, in business since 1916. Their maatje is silky soft and very fresh in flavour. They also sell pickled gherkins, which are very popular.
More details:
Kavita Favelle | Kavey Eats
---
Take a walk through Westerpark. Photo: Manon van Schagen
Relax in serene Westerpark
Amsterdam is the most visited city in The Netherlands. That creates certain tourist hot spots that can be found throughout the city. When traveling it is important to see a part of a country or city without many tourists.
One place where many locals tend to go to in Amsterdam is the Westerpark. Besides the fact that this is a beautiful park, this park is a perfect pick for a relaxing day.
While the park itself is a must-visit, there are many cafes and restaurants in the Westerpark that should be visited. You can relax in the hot spots and park without the overflowing stream of tourists.
Imagine the beautiful foliage in autumn and the snowy trees in winter. Or the first rays of sunshine that falls through the leaves during spring. When the summer season finally arrives, there are festivals held in the area of one of the hot spots, De Westergasfabriek.
Some of the best hot spots in the Westerpark are Espressofabriek and Wester Wijnfabriek. At Espressofabriek, people will find the best coffee in Amsterdam, while the Wester Wijnfabriek is a great, cozy bar for some snacks and drinks.

The Westerpark is a 30-minute walk away from the Amsterdam Centraal train station or around 2.2km. There's also the option to take Bus 18 or Bus 21 from Amsterdam Centraal which is a 20-minute journey.
More details:
Westerpark is beautiful in every season
Wester Wijnfabriek:

Pazzanistraat 10, 1014 DB Amsterdam, Netherlands

Espressofabriek:

Pazzanistraat 39, 1014 DB Amsterdam, Netherlands
Manon | Visiting The Dutch Countryside
---
Explore fashion history at the Bag & Purse Museum. Photo: Sherrie Fabrizi Allbritten
Visit the quirky Museum of Bags and Purses
A unique thing to do in Amsterdam is to visit the Bag and Purse Museum. This bag and purse museum has over 5,000 bags and is the only one in all of Europe. The Museum is located at Herengracht 573, 1017 CD Amsterdam, Netherlands. Canal boats make stops close by.
The museum is in an historic Canal House that houses the amazingly extensive collection. The museum is open every day except for a few holidays. The hours are from 10:00 am to 5:00 pm every day. The tickets are priced reasonable and can be purchased online or at the museum.
Plan on spending about an hour to two hours. A little longer for those who would like to enjoy the café and garden area. There is even a high tea offered, it is recommended to secure a reservation. There are guided tours at select times too.
The entrance into the Canal House is via through the museum shop. Bags and purses are located behind glass lighted display cases. There are luxury designers, time pieces and bags and purses that are actually a piece of art in design and intricacy. The museum takes its visitors through time as they move through the display rooms and is well worth a visit!
More details:
Bag and Purse Museum: Herengracht 573, 1017 CD Amsterdam, Netherlands
Hours: 10am-5pm daily
Tickets: €12.50 (adults), €7.50 (children from 13-18 years), €3.50 (kids from 7-12 years)
Sherrie | Travel By A Sherrie Affair
---
A stroll through Vondelpark is beautiful in any season.
Stroll through Vondelpark
Vondelpark is the largest and most famous park in Amsterdam. With 47 hectares, it has plenty of space to jog, play sports, ride a bicycle, rest in the grass, walk your dog, you name it. Our favorite way to visit the park is by bicycle, but then again it's probably the best way to visit Amsterdam.
The park was named after the famous Dutch poet Joost Van Den Vondel, because of the statue that was placed there. Surprisingly, you can also find a statue by Pablo Picasso entitled "The Fish."
Furthermore, the park is a very pleasant place to go with kids, as it has a large playground, several play areas, and plenty of lakes with wild ducks. It is especially fun on King's Day (April 27th) when there is a free market for kids. Children sell and buy their toys for symbolic prices.
In the summertime (from June to August), there are theatre shows in the open air theatre and classical and pop music concerts. For those who want to grab a bite, the park has several cafés and restaurants, and if the weather allows it, you can always have a casual picnic in the grass.
It is very easy to get to Vondelpark. It is near the Rijksmuseum and Van Gogh Museum, and has several tram stations close by.
Jorge | Travel Drafts
---

Take in bustling Dam Square
Dam Square is one of the most popular and notable attractions in Amsterdam. Roughly a 5-minute walk away from Centraal Station, this town square is always bustling with activity. In the 13th century, a dam was built over the river Amstel in this area and that's how the place got its name.
Today, however, it's one of the most happening spots in the city with plenty of options for shopping and eating out. If you're a shopaholic, don't forget to check out the popular Bijenkorf – a six-story departmental store, or Magna Plaza for a bit of the designer stuff. There are also countless cafes and bars in this area and because of the popularity of the place, you might need to wait a while to get a seat.
Dam Square is also famous for its historic sights and you'll find some of the most notable buildings out here. The Royal Palace is perhaps the most noteworthy. However, there are many others including Nieuwe Kerk (the New Church) and Beurs Van Berlage – which used to be a stock exchange building but is now used as a concert hall or for exhibitions.
There's always something entertaining going on in Dam Square and it's not uncommon to find a bunch of street performers out here. Oh, and pigeons. Loads of them. The evenings are a great time to visit this area – the sights and sounds are going to keep you plenty busy.
Chandrima Chakraborty | Travel Stories Untold
---
A chilly winter day in Amsterdam.
Learn about the city's history at Amsterdam Museum
Located right in a very city centre, Amsterdam Museum is one of those lovely hidden gems many visitors are missing while in Dutch capital. The museum is located in a historical building from the 17th Century that used to be an orphanage. It is dedicated to Amsterdam's history, so it's a great place to visit for anyone interested in topics ranging from the Dutch Golden Age until the first gay marriage concluded in the Netherlands.
Short movies explaining history or architecture of Amsterdam, portraits of its famous citizens or historical paintings, are just some of exhibits that could be find there. For visitors who don't have much time to spend in it, it could be interesting to walk only through the 'Civic Guards Gallery', a covered passageway (free of charge) where a glimpse of the city's history could be felt.
Probably the most interesting, is a huge wooden statue of David and Goliath, with a mechanism built inside of it that's making Goliath's head moving. It was something wealthy people of Amsterdam would have in their gardens during the 17th Century to impress their guests.
Amsterdam Museum is also a home to one of the most beautiful courtyards in a city with a museum café located in it. Although placed right in a busy city centre, it definitely feels like a peaceful oasis with quite a nice coffee, too.
More details:
Amsterdam Museum:

Kalverstraat 92, 1012 PH Amsterdam, Netherlands

Hours: Open 10am-5pm every day
More info can be found here
Tea Gudek Snajdar | Culture Tourist
---
A day trip out to Amsterdam Noord is the perfect escape from the city.
Explore beautiful Amsterdam Noord
One of my favorite areas in the whole of Amsterdam and a place I recommend anyone to include in their city itinerary is Amsterdam Noord.
Located, as the name suggests, on the Northern side of the city, just across the water from Central Station, Amsterdam Noord is an interesting neighborhood.
Considered for a long time an up and coming area with potential, but little of interest to the visitor, in the last few years Noord has transformed itself into a thriving hub of cultural and artistic events.
Reaching Amsterdam Noord is easy. A ferry departs every few minutes form the back of Central Station and leaves you on other side of the IJ in a matter of minutes. The ferry shuttles people and bikes and you don't need tickets nor cash to board as the service is free!
Once in Noord, there is plenty to do. Close to the docking station of the ferry you have the A'DAM Lookout, when you can get your adrenaline fix on the Amsterdam swing, catch a movie at the EYE Film Institute or satisfy your cravings into one of the many hip food establishments in the area.
If you have a little longer, you can explore Noord by bike. This is a wonderful way to experience this very green neighborhood and the best one to understand its history and variety. Pick a spring day with lots of sunshine to also enjoy the many beer gardens in the area and its fabulous markets.
Marta Correale | Learning Escapes
---
Photo: Reflections En Route
Watch the colorful Flower Parade
Every April the Netherlands comes alive with brilliant colored flowers. Tulips, chrysanthemums, and more streak the fields in vibrant pinks, purples, yellow, reds, whites. To celebrate the coming of spring and the blooming of these flowers, they hold many events, but my favorite by far is the flower parade called the Bloemencoerso Bollenstreek.
All the floats are decorated in flowers, and the parade goes from town to town. It traverses many towns, leaving the first one at 9:30am in the morning and not finishing until about 9:30pm at night. Spectators can watch from any of the towns or along the roads in-between. Traffic is usually stopped one hour before the parade is due and will resume afterwards.
Towns usually offer food vendors, free coffee, and other gifts and events so checking out the various towns is fun as well. The parade also goes by the famous Keukenhof Gardens, so it's easy to combine the two attractions into one full day of flowers, flowers, and flowers.
You will be awed and amazed by the beautiful floats of the Dutch Flower Parade, so don't miss it!
Corinne | Reflections Enroute
---
Pin this post for later!